Trump's Brother Makes Last-Ditch Plea to Halt Niece's Book
(Bloomberg) -- President Donald Trump's brother urged a New York judge to block a tell-all book written by their niece, due out next week, even as copies of the damning memoir began circulating in the press.
Mary Trump's book, "Too Much and Never Enough: How My Family Created the World's Most Dangerous Man," portrays the president as a skilled liar and narcissist who rose to power after being coddled by the media and banks.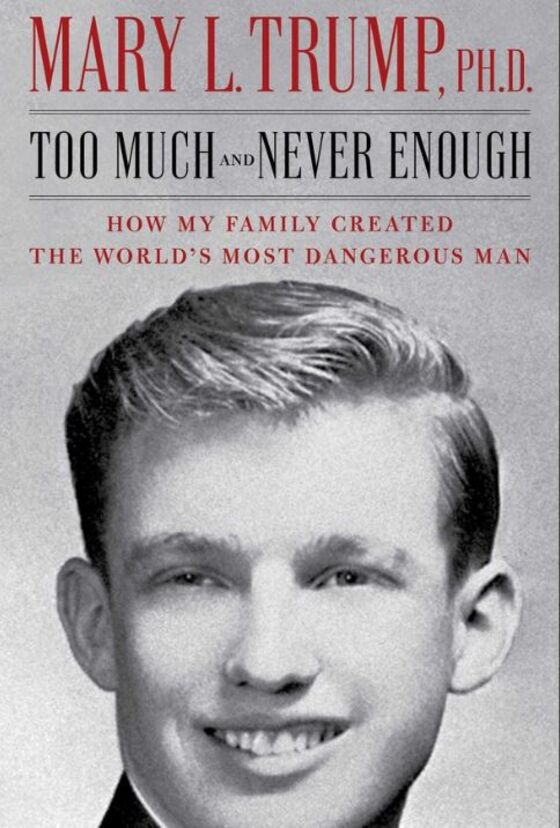 But the book violates the confidentiality clause of a 2001 settlement over the will of the family's late patriarch and doesn't constitute the kind political speech that's protected by the First Amendment, Robert Trump said in a court filing late Tuesday in Poughkeepsie, New York.
"Mary Trump is free to comment on political issues, free to comment on who she is voting for in 2020, and free to express whatever opinions she has about the President's performance in office," Charles Harder, the lawyer representing Robert Trump in the case, said in the filing. "What she is barred from doing is writing about her relationship with the proponents."
Robert Trump's lawsuit, filed last month, seeks to have injunctions put in place against both Mary Trump and her publisher, Simon & Schuster Inc. Justice Hal Greenwald will decide the matter without a hearing as soon as July 10 -- just four days before the book is set to go on sale. Mary Trump's lawyers have asked for oral arguments before a decision is made.
On Tuesday, White House spokeswoman Kayleigh McEnany called Mary Trump's work "a book of falsehoods" full of "absurd allegations."
Robert Trump also argued in his court filing that his endorsement of Donald Trump for president didn't constitute a breach of the agreement as Mary Trump claimed. He also argued that the president's own comments about Mary Trump and her brother Fred didn't violate the deal.
"The root of the Settlement Agreement was not an agreement by the parties not to make passing, generic comments to reporters that the parties had a good upbringing or a good relationship, or an agreement not to endorse a family member's presidential campaign," Robert Trump said.
Mary Trump argues the nondisclosure part of the settlement agreement applies only to the financial terms of the deal as well as family members' relationships to various assets and entities -- not their personal relationships. Even if the agreement were interpreted as Robert Trump says it should be, Mary Trump argues, it would only block her from discussing her relationships with her aunt and uncles -- not their relationships to each other.
Anne Champion, one of Mary Trump's lawyers with Gibson Dunn & Crutcher in New York, said in an interview on Wednesday that if Robert Trump were to seek damages in the case, then her client would have a right to file counterclaims for fraud related to the valuation of the assets involved in the 2001 settlement.
Mary Trump alleges that she had agreed to financial terms based on a valuation of the assets of $30 million when in reality they were really worth about $1 billion, according to an advanced copy of her book obtained by Bloomberg News.
Mary Trump says in her book that she helped discover the alleged discrepancy by obtaining copies of legal documents in 2017 when she was the source for a Pulitzer Prize-winning report in the New York Times detailing the president's finances. That report revealed financial schemes used by the president during the 1990s to avoid tax liabilities.
"I relied on the false valuations provided to me by my uncles and aunt, and would never have entered into the Agreement had I known the true value of the assets involved," Mary Trump said in a July 2 affidavit in the case.
The president previously dismissed the Times report as a "hit piece" that was "old" and "boring."