Trump Was Disrespectful to Mock France on Twitter, Official Says
(Bloomberg) -- A French government spokesman stoked the increasingly personal feud between Donald Trump and Emmanuel Macron on Wednesday, accusing the U.S. president of lacking decency.
Benjamin Griveaux said that it was disrespectful of Trump to mock France's war record in a Twitter tirade on Tuesday, the third anniversary of the terror attacks that killed 130 people around Paris.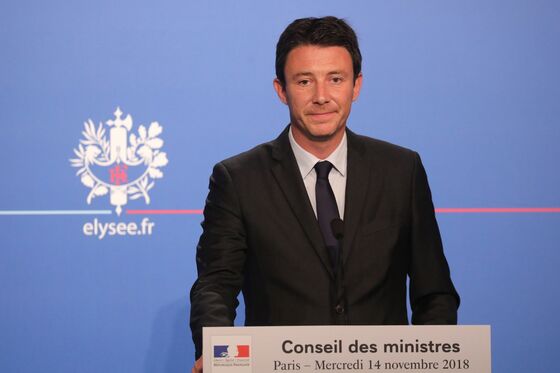 "Common decency would have been better," Griveaux said.
In the first official reaction to Trump's tweet storm Griveaux told reporters that France and the U.S. remain allies and that their leaders "talk frankly." He also added that "diplomacy cannot be done in tweets."
Trump returned this week from a difficult trip to Paris where he had to endure criticism of his nationalist politics from Macron and caught flak at home for skipping a visit to a military ceremony.
On Tuesday morning, shortly before 7 a.m. in Washington, he fired off the first in a series of tweets that criticized Macron's call for a European army, mocked France for being liberated by U.S. troops, and even bemoaned tariffs on U.S. wine.
Griveaux said the tweet spat came up briefly in the weekly cabinet meeting. European Affairs Minister Nathalie Loiseau told French television program "Quotidien"after the meeting that a "complex thought can't be expressed in 280 characters."
Macron is almost certain to face questions about the tweets when he is interviewed Wednesday evening live from France's Charles de Gaulle aircraft carrier, which is due to join a mission with the U.S. navy next year.