Trump Is Now Bad for the Stock Market
(Bloomberg Opinion) -- The Trump bump is turning into a significant Trump discount.
That's been more than evident of late. The S&P 500 Index fell for the first three days of the week, culminating in a 3 percent plunge Wednesday as worries over China's economy and President Donald Trump's trade-war maneuvers morphed into a general sense of gloom about the global economic outlook. On Thursday stocks rebounded, but the rockiness has added to a growing sense that the market's foundation is less than stable, and that Trump's trade steps are what is testing the cracks. 
All told, the S&P 500 Index is now 6.5 percent cheaper than it was before Trump was elected president, with the gauge trading at 15.7 times next year's expected earnings, down from just under 17 in early November 2016. From inauguration day, stock-market valuations are down a little more than 9 percent. By comparison, they rose 16 percent in Barack Obama's first two years in office.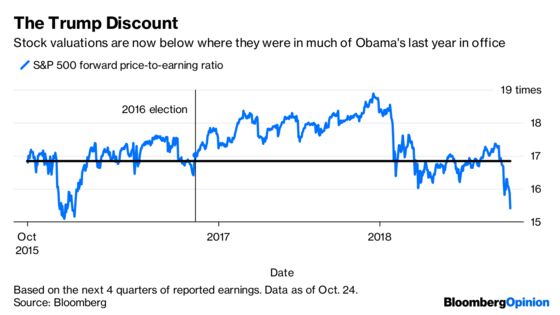 Many had long argued that the market looked overvalued, even before Trump was elected. And in the months after the election, stocks did zoom to new highs. But in terms of valuation, the market has given back all of that and then some. The reason is in part due to higher interest rates and inflation, both of which, again, were expected to happen long before Donald Trump. Corporate operating margins, likely a big factor in higher stock-market valuations, are still near their peak, but with a tight labor market many expect that to turn as well.
Nonetheless, at least part of the sell-off in stocks does seem to be Trump-related. Stock-market valuations peaked in mid-December last year, just days before the Republicans' tax cut was signed, at 19 times the next four quarters of reported earnings. Worries about a trade war have been a big part of that drop. The biggest portion of the drop-off in stock market valuations happened in late January and early February, when President Trump made clear that he was going to go ahead with tariffs and other measures to block trade with China and others.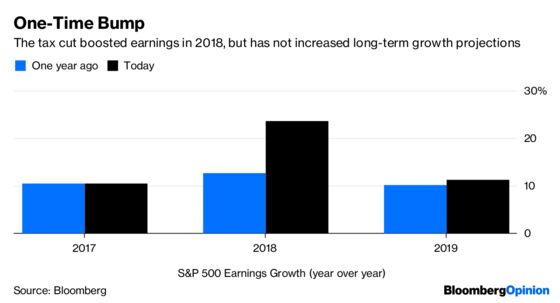 While trade fears are still an issue, worries have shifted recently from trade to growth. There, increasingly, the Trump tax cut seems to be coming up short as well. The reduction in the corporate rate has certainly boosted companies' earnings this year. The bottom lines of corporations in the S&P 500 are expected to rise 24 percent this year. But much of that seems to be a one-time boost, and not the sustained higher growth that Trump and his advisers promised from low tax rates. Analysts are now expecting 2019 earnings growth to slow to 10.1 percent, virtually the same growth they were predicting back in June 2017, six months before the passage of the tax cut. What's more, capital expenditure growth appears to have significantly slowed in the third quarter, though it is still up from a year ago, according to report out Thursday morning from strategists at UBS.
To be sure, earnings and the stock market are up from where they were when Trump was elected, and the president can claim some portion of the credit for that. But a Trump bump? That's long gone. 
This column does not necessarily reflect the opinion of the editorial board or Bloomberg LP and its owners.
Stephen Gandel is a Bloomberg Opinion columnist covering banking and equity markets. He was previously a deputy digital editor for Fortune and an economics blogger at Time. He has also covered finance and the housing market.