Trump Immigration Crackdown Adds to Risks on U.S. College Bonds
(Bloomberg) -- Add this to the list of concerns for buyers of U.S. colleges' tax-exempt debt: President Donald Trump's immigration policies.
Earlier this year, S&P Global Ratings lowered its outlook on the University of Central Missouri's credit rating to negative from stable after the school reported a 12 percent decline in enrollment. In financial documents, the school attributed the drop in part to a "heightened negative perception" of the U.S. being friendly to foreign students, who were choosing programs in Canada and Europe instead.
The number of new international students studying at U.S. institutions fell by an average of 7 percent in the fall of 2017, marking the second straight annual decline, according to S&P. The drop has been driven by troubles students have securing visas, said Jessica Wood, an S&P analyst.
The Trump administration has placed tougher restrictions on foreign students visas, particularly those coming from China, and that's made it less desirable for international students to study and work in the U.S. Many smaller private schools are already struggling with stagnant enrollment as some students eschew the high price tags, with S&P last year downgrading more than twice as many colleges and universities than it upgraded.
"I don't anticipate we're going to get the market back," Drew Bogner, president of Molloy College on New York's Long Island, said at an event Thursday hosted by S&P.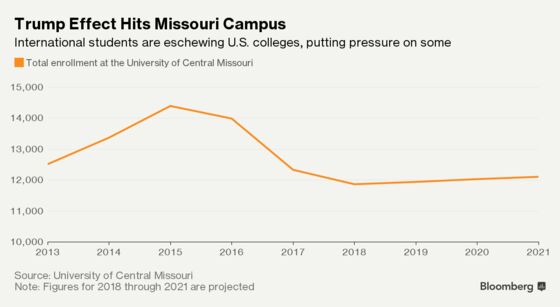 The decline in foreign student enrollment has also been driven by the high cost of education in the U.S. and more competition from institutions in other countries, S&P's Wood said in an interview.
Still, the impact is largely limited to smaller schools because foreign students tend to favor large, well-known ones like New York University, Wood said. That school's international student applications, acceptances and deposits were all set to rise for the fall semester, according to May bond documents.