Trump Ally Ron DeSantis Wins Florida Governor's Race
(Bloomberg) -- Donald Trump-endorsed Republican Ron DeSantis prevailed in the Florida governor race on Tuesday, reaffirming support for the president's brand of politics and dashing Democrats' hopes of electing the state's first black governor.
"I'd like to thank our president for standing by me when -- for standing by when it wasn't necessarily the smart thing to do," DeSantis said in a victory speech in Orlando.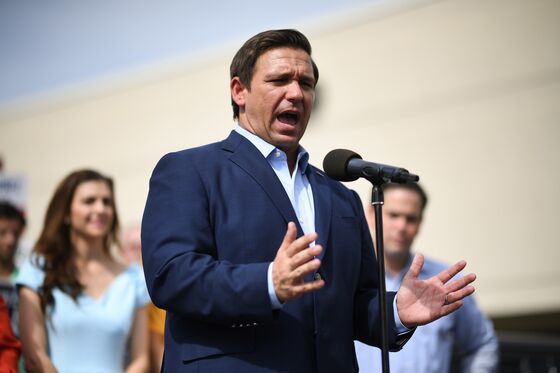 A 40-year-old former U.S. representative, DeSantis beat Democratic Tallahassee Mayor Andrew Gillum in part by pledging to cut the corporate income tax and protect gun rights. He had said during the campaign that legislators went too far to restrict weapons access after the killing of 17 students and staff at a school in Parkland, Florida. 
"As governor I'll make sure that Florida remains a low tax state," he said Tuesday night. "For those of you in high tax states who may be contemplating investing in Florida, please know that we remain open for business."
He benefited from an early Trump endorsement in the country's most-populated swing state, and got help from the president throughout the campaign as he battled media juggernaut Gillum.
"DeSantis winning illustrates that the president's power to motivate Republican voters is still very strong," said Kevin Wagner, professor of political science at Florida Atlantic University in Boca Raton.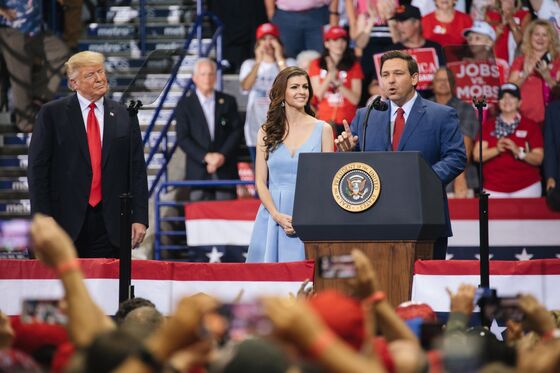 The victory ensured Republican control in a critical state ahead of the 2020 presidential election. Trump won the state two years ago, but a groundswell of interest around progressive policies -- including expanded Medicaid -- and the president's relatively low national approval ratings threatened to tilt the advantage to Democrats.
DeSantis tried to portray his opponent as corrupt. Ads cited Gillum's involvement with an FBI probe into the Tallahassee community redevelopment agency. The mayor has said he wasn't a target, and the investigation hasn't produced any indictments.
Former New York Mayor Michael Bloomberg contributed $250,000 to Gillum's campaign through a political committee and personally appeared with him. Bloomberg is the founder and majority owner of Bloomberg LP, the parent company of Bloomberg News. He has given millions of dollars in 2018 to Democratic congressional campaigns and told the New York Times that he is considering running for president as a Democrat.