Trudeau Still Canadians' Top Pick for Taming Trump, Poll Shows
(Bloomberg) -- Justin Trudeau's government is under increasing attack for its U.S. trade deal, but Canadians still see the prime minister as the best bet for dealing with Donald Trump.
In a Nanos Research poll conducted for Bloomberg, 39 percent of Canadians say Trudeau is the best for managing ties with the U.S. president. Another 22 percent say none of the leaders are best suited, while 21 percent chose Andrew Scheer, a conservative who is Trudeau's top rival.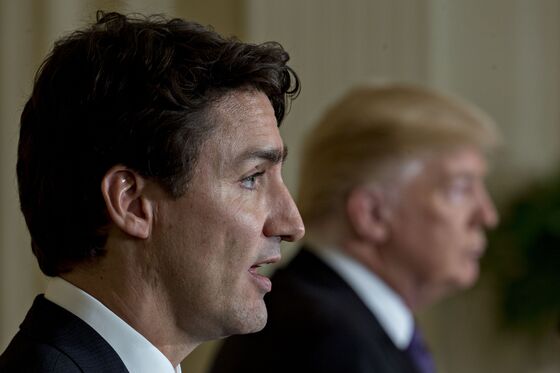 The polling was conducted around the time Canada clinched a deal with the U.S. and Mexico to update the North American Free Trade Agreement. Scheer's party is turning up its attacks on Trudeau over the deal, insisting the Canadian leader gave up too much for too little. The results show Scheer has a ways to go to be seen as a better fit.
"The advantage that any prime minister has is that they are the prime minister -- and it's easier for people to believe they'd do a reasonable job managing the relationship with the president of the United States," pollster Nik Nanos said. "This probably explains why Andrew Scheer has been talking up that he could have gotten a better deal."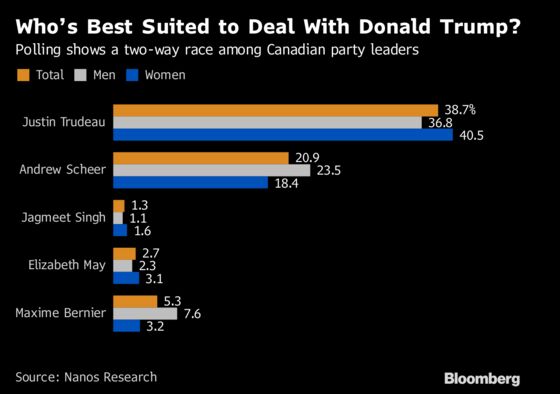 Canada's opposition parties mostly refrained from criticizing the government during negotiations, but that solidarity is breaking in the aftermath of the three countries reaching a deal Sept. 30 on the rebranded U.S.-Mexico-Canada Agreement.
Scheer has said the Trudeau government is measuring the deal by what it gave up, for lack of any significant gains. "I would have signed a better one," Scheer said on Twitter over the weekend. Ontario Premier Doug Ford, a populist conservative, has also criticized the outcome of the deal after backing Trudeau's approach during a visit to Washington last month.
The Nanos poll found Scheer's credibility on U.S. ties may have inched up -- 21 percent see him as the best option, compared to 20 percent three months earlier, within the margin of error.
Another five percent of respondents said Maxime Bernier -- a former Conservative lawmaker who quit Scheer's Conservatives and is launching his own populist party -- was best for dealing with the U.S. President. Green Party Leader Elizabeth May, who is her party's only federal lawmaker, was chosen by three percent of respondents.
Just one percent of respondents picked Jagmeet Singh, leader of the New Democrats, who have the third-most lawmakers in Canada's House of Commons and regularly poll in third-place in Canada's multiparty system.
"For a party that's in the teens, to have your leader at 1 percent, it means that even in your own tribe, committed NDP supporters do not believe Jagmeet Singh is the person to best manage the relationship with the president of the United States," Nanos said.
Another nine percent of respondents were unsure.
The deal represented a victory because it brought certainty at an uncertain time, Trudeau said Monday in Toronto. He downplayed Trump's personal criticisms of him, including a UN snub and a G-7 eruption. "What people will remember is where we ended up," Trudeau said.
The Nanos polling was conducted by phone and online, with 1,000 respondents between Sept. 29 and Oct. 4. It's considered accurate within 3.1 percentage points, 19 times out of 20.