Trudeau Signs Deal to Make Novavax Covid-19 Vaccine in Canada
(Bloomberg) -- Prime Minister Justin Trudeau announced plans to manufacture Novavax Inc.'s Covid-19 vaccine in Canada, making it the first coronavirus shot that will be produced in the country.
Canada has signed a memorandum of understanding with Maryland-based Novavax "to pursue the production" of the vaccine at a facility being built in Montreal by the National Research Council, a government agency, according to a statement Tuesday from the Canadian leader. Vaccine production is set to begin in late July.
"Since the beginning of the pandemic, our top priority has been the health and safety of all Canadians," Trudeau said. "We are investing in our biomanufacturing capacity so that we have the made-in-Canada vaccines and treatments we need to protect Canadians."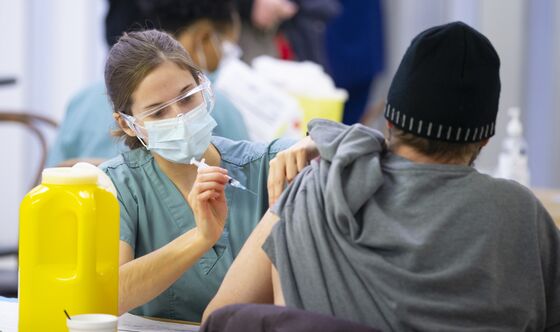 The deal comes with Trudeau facing pressure to secure a domestic supply of Covid-19 vaccines, a vulnerability that was laid bare over the past week after the European Union imposed an export control mechanism on its production.
Trudeau has pledged to inoculate a majority of Canadians by the end of September. As of Monday, Canada had administered 2.6 doses per 100 people, putting it toward the bottom of the pack among Group of Seven nations. The U.K. has vaccinated 14.7% of its population, compared to 10% in the U.S., 3.3% in Italy and 3% in Germany.
Canadian public-health authorities have yet to approve the Novavax vaccine. The Pfizer Inc.-BioNTech SE and Moderna Inc. Covid-19 vaccines are the only two vaccines that have received regulatory approval. Submissions from AstraZeneca Plc and Johnson & Johnson are also currently being considered for authorization.
Trudeau also announced on Tuesday that the government is providing C$25 million ($19.5 million) to Vancouver-based Precision Nanosystems Inc. to build a factory that could manufacture 240 million doses per year.