Treat From Austria? Maker of Mozartkugeln Is Going Broke
(Bloomberg) -- Shoppers for treats from Austria may be left with fewer options after the maker of Mozartkugel sweets filed for insolvency, threatening supply of the chocolate-pistachio delight named after the famous composer.
Proceedings against Salzburg Schokolade GmbH started on Tuesday, the KSV1870 creditor association said in an emailed statement. The company blamed lower revenue after the pandemic slowed tourist traffic to a trickle and families gathered less for celebrations, APA news service reported earlier on Tuesday, citing a letter.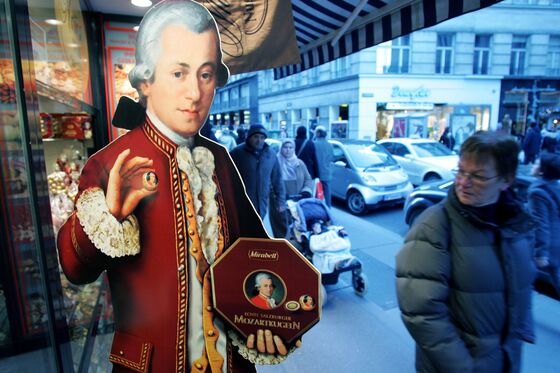 Higher costs for energy, ingredients and deliveries also contributed to its financial difficulties, the company said. Salzburg Schokolade didn't immediately respond to an email and call seeking comment.
The 124 year-old candy maker has been making Mozartkugeln for Mondelez International Inc. under the Mirabell brand. It also produces sweets for the Austrian market as well as baking ingredients such as nougat and marzipan.
Salzburg Schokolade's plight highlights the headwinds for tourist-oriented companies in Austria, which became the first European country to reintroduce a lockdown in the latest wave of the pandemic. The curbs may cost as much as 1.2 billion euros a week and force some 400,000 workers into a subsidized job program, according to the government.