Treasury Yields Would Jump on a Democratic Sweep, Goldman Says
(Bloomberg) -- Treasury yields would be jolted higher by Democrats winning the U.S. presidency and control of both houses of Congress, say Goldman Sachs Group Inc. strategists Praveen Korapaty and Avisha Thakkar.
In a note published Wednesday, they said the benchmark 10-year note's yield could rise 30 to 40 basis points over the month following the Nov. 3 election. The adjustment would reflect the possibility of substantially higher federal spending, they said.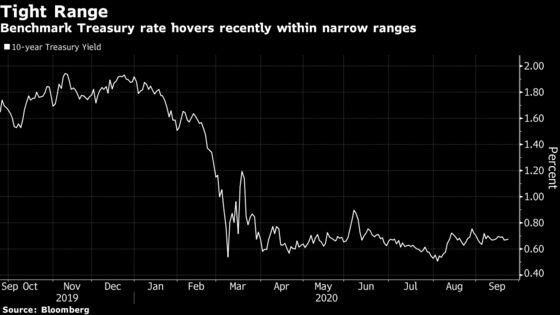 The 10-year yield, around 0.68% on Wednesday, has been stuck in a tight range as volatility in the world's biggest debt market hovers near a record low, suggesting traders expect little movement until the election.
Beyond producing the biggest jolt in yields, a Democratic sweep also could bring forward market expectations for the next Federal Reserve rate hike, they said. Even a "dialed down" agenda of presidential candidate Joe Biden might move the first increase to 2023 from 2025, they said.
The second-most-likely outcome based on recent polling is for a divided government -- with Biden as president and a Republican-controlled Senate, or President Donald Trump being re-elected with a Democratic-controlled Congress, according to the strategists. In either scenario, Goldman expects a strong economic rebound even without additional stimulus, particularly after a Covid vaccine becomes widely available.
"We don't see material changes in front-end yields in this scenario," although longer-maturity yields could rise a bit and the curve could modestly steepen based on higher odds of a small fiscal package, the strategists said. In that case, they expect the 10-year yield to rise five basis points over the subsequent month.
The third most-likely outcome is a contested or delayed result, which could cause risk sentiment to turn "substantially negative." The 10-year yield might fall by 15-20 basis points over the following month, back toward its 0.51% record closing low from Aug. 4.