Bonds Flash a Warning Sign to the Fed
(Bloomberg Opinion) -- The Treasury market did exactly what's expected during a global stock-market rout: It staged a strong rally. The U.S. 10-year yield plunged 7 basis points, the most in almost five months, as investors flocked to havens.
Yet when looking at a 2018 chart of the global borrowing benchmark, the move barely seems to register. At 3.13 percent, the yield is still firmly above where it started the month, and it isn't anywhere close to the moving averages that technical strategists love to watch for a crucial reversal. For shorter-dated maturities, the move seems even less pronounced.
Beneath the surface, though, lies a trend that should give traders pause about the Federal Reserve's capacity to keep up its gradual rate hikes. The five-year U.S. break-even rate, which is the market's measure of inflation expectations over the next half-decade, tumbled to the lowest since February. At less than 1.95 percentage points, it's below the level that policy makers target to meet their mandate for stable price growth.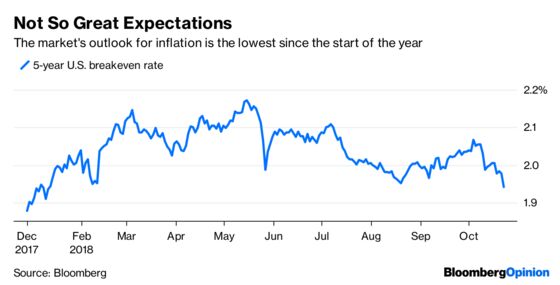 Of course, some of the decline is just tracking the price of oil, which has fallen from the highest since December 2014. But any lingering concerns about global growth also take their toll. Tuesday's earnings results from Caterpillar Inc. and 3M Co., along with some European tech companies, suggest that corporate profits may have peaked, or are at least close to the top.
Earnings are the one pillar that's been keeping the U.S. equity markets near record highs throughout this Fed tightening cycle. When traders cringed at a 3 percent 10-year yield and what that might mean for the American housing market and corporate borrowing, robust profits soothed them. Investors brushed off mounting geopolitical risks from China, Italy and Saudi Arabia as long as they didn't harm company balance sheets. The early indications, at least, signal that earnings are no longer the impenetrable foundation they once were.
Bond traders are now barely pricing in two rate hikes between year-end 2018 and year-end 2020, the least since Oct. 2, according to eurodollar futures data. The Fed projects twice as many over that period. The difference may only become more pronounced if the market's inflation expectations for the coming years continue to wane. 
This column does not necessarily reflect the opinion of the editorial board or Bloomberg LP and its owners.
Brian Chappatta is a Bloomberg Opinion columnist covering debt markets. He previously covered bonds for Bloomberg News. He is also a CFA charterholder.