Bond Yields' Path Back to 2020 Highs Lies With Convexity Hedging
(Bloomberg) -- Treasury yields' journey back to peaks last seen before the pandemic hit the U.S. could get an added boost if they hit a level that would trigger hedging flows in the $7 trillion mortgage-backed bond market, Morgan Stanley strategists say.
They expect 10-year yields to rise to 1.80% by year-end from 1.33% as of 7:49 a.m. in New York. That view is driven partly by convexity hedging, a phenomenon where Americans sell bonds to compensate for lost interest in refinancing their old mortgages as a result of higher yields.
A rise in benchmark U.S. yields to 1.43% would mean mortgage servicers would need to sell twice as much duration to hedge positions than they would have to buy if yields dropped to 0.93%, according to Morgan Stanley analysts' calculations. That would translate into $4.7 billion in selling pressure on 10-year Treasury equivalents per basis point move if yields climb to the higher level.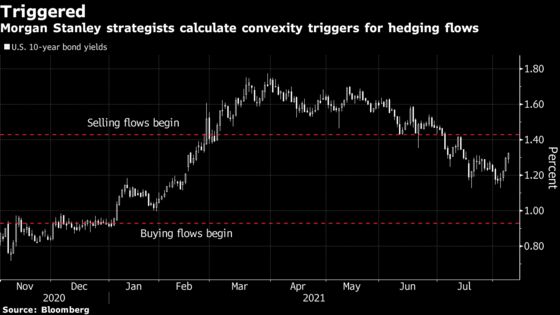 "We think that investors should be short U.S. 10-year rates," strategists including Andrew Sheets and Jay Bacow wrote in a note dated Monday. "A rise in yields would get to the point of peak mortgage convexity."
Morgan Stanley strategists join their peers at Citigroup Inc. in forecasting Treasury yields will climb back to levels last seen before the coronavirus turned into a pandemic. Benchmark rates mounted a comeback from multi-month lows last week after hawkish comments from some Federal Reserve members and the biggest gain in U.S. jobs in almost a year renewed conviction in policy tightening.
Any upside in yields could gain momentum should they hit so-called convexity trigger points that force mortgage holders to unload long-dated Treasuries or adjust derivatives positions.
These flows have exacerbated moves in Treasuries in the past, though their impact has been muted in recent years. The Fed now owns around a third of the mortgage market and it doesn't hedge, with another third or so held by U.S. banks, which also tend to stand pat.
Supply this week could also give Treasury yields upside traction. The Treasury kicks off its slate of coupon auctions Tuesday when it sells $58 billion of three-year notes, followed by $41 billion of 10-year securities on Aug. 11 and $27 billion of 30-year bonds on Aug. 12.
"We expect a modest concession on Tuesday," BMO Capital Markets strategist Ian Lyngen wrote in a note. "The degree to which investors demand cheaper entry levels with higher policy rates now being debated will be especially topical."