Treasury Yields at 1% Fail to Excite Japanese Bond Investors
(Bloomberg) -- Japanese money managers are biding their time on Treasuries, waiting for the 10-year yield to advance further after it breached the key 1% threshold this week.
"Japanese investors will likely be prompted to buy more Treasuries when the yield rises to 1.3%," according to Masahiko Loo, fixed-income portfolio manager at AllianceBernstein Japan. "Funds may be tip-toeing back after 10-year U.S. yields rose above 1%, but they expect more fiscal measures" to push yields higher.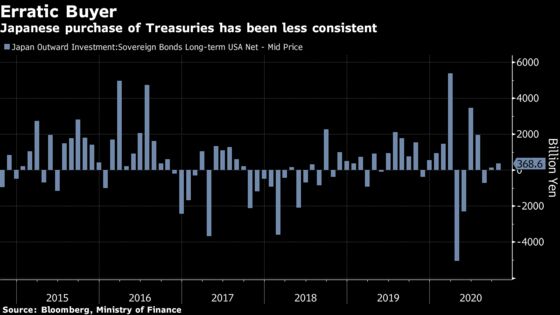 While Japan is the largest foreign holder of U.S. sovereign bonds, its funds were selling Treasuries and buying higher-yielding debt in Australia and China last year. Debate over how far Treasury yields could climb is also dividing Wall Street, with some expecting it to edge up by just a few basis points while others call for an aggressive advance to 2%.
The 10-year Treasury yield may reach 1.3% by mid-year, says Kenta Inoue, senior market economist at Mitsubishi UFJ Morgan Stanley Securities in Tokyo. A potential rise in inflation may accompany optimism over vaccine availability and market talk of likely Fed tapering, he said.
"The relative appeal of U.S. bonds won't immediately rise just because the 10-year U.S. yield hits 1%," said Eiichiro Miura, general manager of the fixed-income department at Nissay Asset Management Corp. "When its level changes to 1.2% and moves toward 1.5%, it will make it easier for Japanese funds to turn to hedged foreign debt."
After deducting the cost of currency hedging, a 10-year Treasury bond will offer a yield of about 0.68% for a Japanese investor. That compares with nearly 1% for a similar Australian bond.
Australian bonds remain attractive for Japanese funds, according to both Nissay Asset and AllianceBernstein. "Buying may accelerate if returns after hedging exceed 1%," AllianceBernstein's Loo said.