Treasury Yields and Dollar Part Ways as Risk Appetite Rebounds
(Bloomberg) -- As global risk assets regain momentum, investors are driving Treasury yields toward seven-year highs and dumping the dollar at the same time.
The greenback fell as much as 0.6 percent Thursday even as benchmark 10-year yields touched 3.09 percent, the highest level since May, and U.S. stocks rose to fresh records. While rising rates typically buoy the currency, a renewed appetite for risk is pulling that relationship apart. The message is simple according to Deutsche Bank AG's Alan Ruskin: while strong U.S. and global equity markets are supporting yields, demand for emerging-market currencies and other risk assets is hurting the dollar.
"Put the two together and you get a weaker dollar associated with higher dollar yields," Ruskin, global co-head of foreign-exchange research, wrote in a note.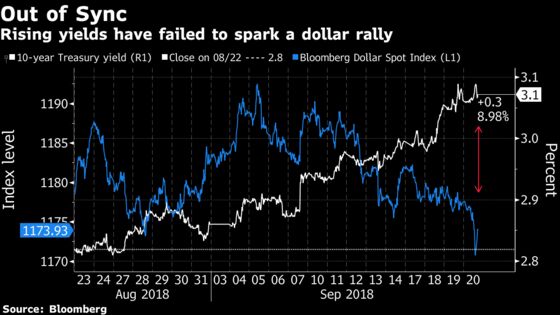 The march higher in Treasury yields is also coming as traders adjust expectations for U.S. rate hikes closer to the Federal Reserve's path. Yet, focus is starting to shift on the tightening prospects of other developed nations, diminishing the dollar's appeal in an otherwise "very bullish set up," according to Brad Bechtel, global head of foreign exchange at Jefferies LLC.
"We are likely to see this theme of 'buy everything else' re-emerge back to the forefront of the market's mindset," Bechtel wrote in a note to clients. "This will help EM rally, G-10 as well, and put some slight downward pressure on USD."
Thursday's dollar selloff came on the heels of an overnight interest-rate hike from Norway's central bank and the Swiss National Bank stopping short of toughening its rhetoric on a recent bout of franc strength. With Australia and Sweden looking for their next move in rates to be higher and the European Central Bank indicating a hike is possible as early as next summer, the greenback could remain under pressure in the months ahead, Bechtel said.
A combination of robust U.S. economic growth and haven flows have buoyed the dollar by roughly 5 percent since mid-April. However, the currency has tumbled nearly 2 percent since its 2018 peak reached in August as emerging-market turmoil ebbs and global growth firms. The dollar's biggest losses Thursday came against the British pound and Swedish krona after unexpectedly strong U.K. retail sales and growing Swedish rate hike bets.
Even with fed funds futures showing that markets view a Fed rate hike next week as a near certainty, analysts and investors doubt it will lend much support to a floundering greenback.
That trend, however, may come to an end if Treasury yields break above this year's highs.
"If the U.S. 10-year yield breaks into new terrain, through the cycle high above 3.13 percent, it will likely put an end to the short EM squeeze, and become a factor in its own right having a negative risk impact," Ruskin said.