Treasury Yield Curve Resumes Steepening After Weak Bond Auction
(Bloomberg) -- The Treasury yield curve was subject to notable volatility Tuesday. Weak demand for the monthly 30-year bond auction unleashed a bout of steepening that reversed a flattening move spurred by hot June inflation readings.
As the consumer price index data emboldened traders to bet that the Federal Reserve will tighten policy in early 2023, spurring five-year yields higher, the gap with 30-year yields narrowed to less than 114 basis points, approaching the slimmest levels of 2021, reached last month. After the auction, it widened back toward 120 basis points, remaining well below an over six-year high of 167 basis points reached in February.
Five-year yields rose as high as 0.852%, up more than 20 basis points from mid-February levels. Money-market traders are penciling in Fed liftoff from near zero in early 2023 -- with implied rates on the contracts rising slightly Tuesday. Bond yields, by and large lower on the day after the inflation data, took off after the auction, approaching 2.05%, the highest level in a week.
Consumer price readings surged last month by the most since 2008. That helped lift bond-market gauges of future price pressures. The 10-year breakeven rate, a market proxy for the average annual inflation rate over the next decade, rose as high as 2.37%, although it remains below an eight-year high reached in May. It ebbed from those highs after policy makers last month brought forward their median forecast for when they'd first lift rates, to 2023.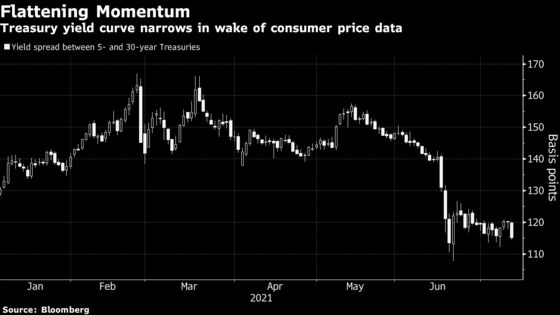 The CPI data "will give ammunition to those FOMC participants who prefer to raise rates sooner rather than later (i.e., in 2022) and correspondingly will make the arguments of those who prefer to wait (including the leadership) more complicated," Roberto Perli, a partner at Cornerstone Macro LLC, wrote in a note with colleague Benson Durham. It's also "a further yield curve flattener. The hurdle for a re-steepening of the curve is high."
Fed officials foresee two hikes by the end of 2023, according to the median estimate of their projections published last month. Yet Boston President Fed Eric Rosengren as well as St. Louis Fed's James Bullard, Dallas's Robert Kaplan and Atlanta President Raphael Bostic have all publically laid out a scenario in which the central bank would lift rates next year.
Rates on the long bond were down as much as about 4 basis points at 1.95%, before rebounding to be higher on the day at about 2% after the auction was completed.
Treasury's $24 billion reopening of 30-year debt was sold at 2%, more than 2 basis points above where the debt was trading on a when-issued basis just before bidding completed. It was still the lowest 30-year auction yield since February. Today's sale follows solid 3- and 10-year auctions on Monday.
A swath of Wall Street forecasters have been flatting this month that the multi-year curve steepening trend is over.
"The inflation genie could be out of the bottle as the inflation picture looks less and less transitory," Sung Won Sohn, president of SS Economics and a professor at Loyola Marymount University wrote in a note. "To be sure, the supply bottlenecks, a surge in demand and the base effect explain some of the increases, but it is difficult to argue that everything will be back to normal in a few months."