Treasury Traders' Five-Year Inflation Expectations Top 3%
(Bloomberg) -- Bond traders' expectations for how fast inflation will rise over the coming five years have topped 3% for the first time on record.
A rise in the so-called breakeven rate on Treasury Inflation Protected Securities shows investors are seeking protection from consumer-price gains that exceed the Federal Reserve's 2%-over-time target.
The rate climbed more than 9 basis points to 3.007% on Friday morning, reaching the highest level on record in Bloomberg data going back to 2002. That followed a surge on Thursday where buying overwhelmed supply -- particularly surprising given it occurred even as the government auctioned a record $19 billion of five-year TIPS. 
Investors are buying TIPS as the Fed allows inflation to run hot while the economy recovers from the pandemic. U.S. Treasury yields are climbing, while demand for inflation-protected notes and bonds has kept those yields relatively stable. The difference in yield between TIPS and Treasury yields represents the inflation rate needed to equalize their returns.
"There is growing realization that supply-chain disruptions may last much longer than what anyone thought," said Priya Misra, strategist at TD Securities. The pandemic has disrupted logistics, transportation and jammed up global ports, while a labor shortage and recent energy crisis have made things worse. The move in the breakeven rate also reflects the risk that if inflation is due to supply-chain disruptions, even a Fed rate hike won't help lower it, she added. 
Misra also noted that while the five-year breakeven rate has surged, the 5-year 5-year forward inflation swap rate -- a market-based inflation forecast that leapfrogs the current rampage in commodities -- remains below its May year-to-date high.
"That's what the Fed is likely watching to see if inflation expectations are getting unanchored," she said. If a longer-dated move occurs, that "could actually force the Fed's hand."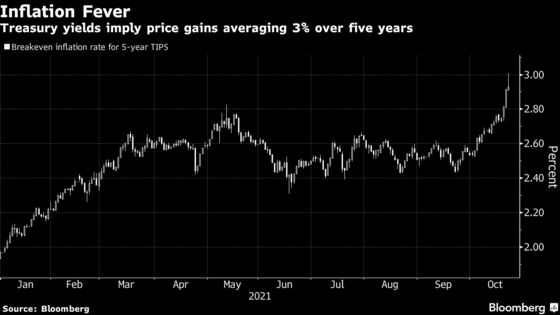 Less than a basis point of the increase in the 5-year breakeven rate is attributable to Thursday's 5-year TIPS auction, which became the benchmark issue Friday, replacing the one that debuted in April, according to Barclays strategist Michael Pond.
Short-maturity Treasury yields this week touched the highest levels since the start of the Covid outbreak as inflation concerns drove traders to price in two U.S. interest-rate hikes by the end of next year.
Interest-rate hikes are not coming "anytime soon," though central bankers will act if inflation expectations become unmoored, Cleveland Federal Reserve President Loretta Mester said this week. As for the central bank's asset purchases, Fed Chair Jerome Powell reiterated Friday that tapering is set to begin soon and conclude by mid-2022.