Epic Long-Bond Short Squeeze Hits as Treasury Bears Seek Cover
(Bloomberg) -- The rally in Treasuries went into overdrive Tuesday, threatening to upend the legion of investors who are betting against longer-maturity bonds.
Thirty-year futures rose as much as 2 15/32 and outperformed on the curve, sending yields plunging as much as 12 basis points. Open interest in the contract dropped for a fourth day Monday, suggesting traders who had taken bearish directional bets were already feeling the jitters before the latest plunge in stocks.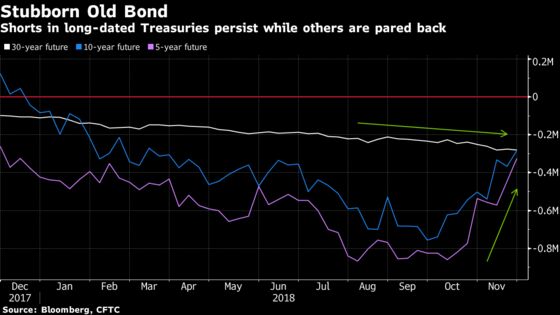 Another drop in outstanding positions in data released after the close will confirm a full-blown squeeze is underway. Open positions in 20- to 30-year futures saw a combined reduction of $7 million per basis point on Monday, a measure of interest-rate risk exposure being pared. The cut in positions, equivalent to just over $8 billion of 10-year cash bonds, may just be a start of what's in play.
Prior to the latest rally in Treasuries, speculative net-short positioning was growing, according to data from the Commodity Futures Trading Commission. Investors had more than 280,000 short contracts on 30-year futures as of Nov. 27, an increase of about 30,000 from a month earlier.
Tuesday's equity plunge and clear shift out of cyclical and into defensive shares may indicate that the rally in bonds has further to run. A strong seasonality in the five- to 30-year Treasury spread in December -- which has contracted nine times in the past decade, also suggests the long-end has further scope to outperform.