Treasury Selloff Sees Open Positions Jump $20 Billion in One Day
(Bloomberg) -- The appetite of Treasury bears appears insatiable.
If a 12-basis-point jump on Wednesday in 10-year Treasury yields wasn't enough, there are indications that investors have been ramping up bets on a further increase. Positions across bond futures jumped by the equivalent of more than $20 billion of 10-year bonds on that day alone.
Futures for U.S. 10-year, long, and ultra bonds saw preliminary open interest -- a measure of outstanding positions - surge to new records on Wednesday, with each racking up the biggest one-day increase since the current contract became the front-month.
Just as longer-maturity bonds led the advance on Wednesday, with 30-year yields steaming past the 3.25 percent barrier, it was long-dated futures which led the surge in positions. That suggests new shorts have been added. The futures covering the 20- to 30-year sector showed large increases in what's known as dv01/bps , a measure of the interest-rate risk being taken, representing the dollar value of a one basis point move.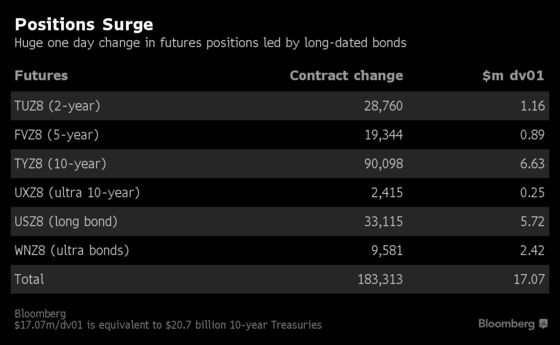 Speculators had already been set up for a selloff in Treasuries with net short positions on 10-year notes climbing to a record last month, according to the most recent Commodity Futures Trading Commission data.
Long-dated bonds have led the gains in Treasury yields, with the 30-year touching 3.39 percent on Thursday, the highest since 2014, and bucking the recent flattening trend.
While not a common view among strategists, options skew, a measure of the difference in cost between bullish and bearish bets, suggests traders had been positioning for a steeper yield curve. The premiums for options to protect against higher rates in the more than 20-year bond tenor were much higher than in shorter-dated ones.