Treasury Tries Again on Ultra-Long Bond Idea Wall Street Hates
(Bloomberg) -- The Trump administration is resurrecting a long-term borrowing proposal that's been anathema to Wall Street. But its prospects aren't likely much better this time amid the worst liquidity since the 2008 crisis.
The White House is considering issuing 25- and 50-year bonds, which would be new maturities, to help fund a potential $1.3 trillion economic stimulus package, according to people familiar with the matter cited in a Bloomberg News article Thursday.
That's three times in as many years that the U.S. government has expressed an interest in expanding beyond 30-year Treasuries. A new issue could allow the Treasury to fund at historically low costs. Rates on the longest-dated bonds hit record lows this month and the Federal Reserve is providing support with a near-zero policy rate and massive asset purchases across the curve.
But the idea isn't likely to rally great support, in the teeth of a crisis that's sapping market liquidity and causing volatility even in long-dated Treasury bonds. The proposal failed in 2017 and again last year because the Treasury's market advisers didn't see sufficiently consistent demand for extra-long-term bonds -- which at the time meant 50 and 100 years -- to support regular and predictable issuance. That stability is critical to sustainably funding the U.S. government, whose borrowing costs are a global benchmark.
"We have asked clients about 50s on several occasions over the past few years and found few takers," said Mike Schumacher, interest rates strategist at Wells Fargo.
That was before the current crisis, which has shown how volatile the ultra-long portion of the market can be: Liquidity strains have swung the 30-year yield -- currently the longest maturity U.S. debt -- in a more-than-1-percentage-point range in the last 10 days.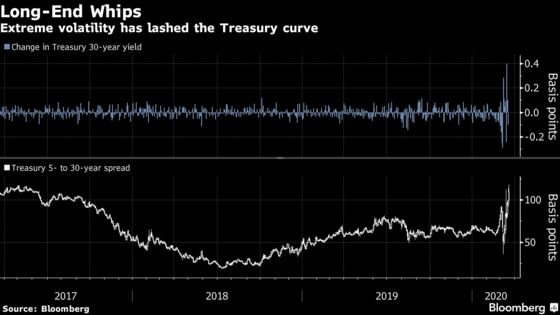 With the Fed buying Treasuries every day at this point, including a $75 billion operation Thursday, "we don't really know what liquidity would really look like," said Ian Burdette, head of term trading at Academy Securities. But he pointed out that there's no hedge to a 50-year bond in the futures market, which could make it virtually impossible to trade.
Dealers have also been cold on the concept of ultra-ultra-long bonds on the basis that it could mess with what's been a growth business providing stripped securities -- Treasuries that have been broken into their component cash flows of coupon and principal. The dealers keep the coupon on their balance sheets, but that space has gotten more cramped and costly during the crisis.
The Treasury isn't short of options to fill its widening budget gap, says Schumacher, as it's already set to introduce a new 20-year bond this year. He expects that bond to launch as soon as May. He's also more open to a quarter-century bond, which would create a new pricing point on the existing Treasury curve.
The proposal for a half-century bond gets a mixed reception from investors who see the main customer base elsewhere.
"Do we as investors have interest in a 50-year bond at these yield levels? Probably not," said Margaret Steinbach, a fixed-income investment director for Capital Group, which oversaw $2 trillion in assets as of December. But given the shortage of positive-yielding assets globally, she said, "I imagine there will be foreign demand for it."
Gene Tannuzzo, portfolio manager at Columbia Threadneedle, pointed out that the recent lift in long-dated yields at the long end of the curve has at least added value to that part of the market. The five- to 30-year curve is around its steepest level since 2017: roughly 110 basis points Thursday.
He sees a case for the Treasury to extend its borrowing out another couple of decades if it can rely on the central bank to smooth the path.
"If the Fed is going to be lower for longer again, then quality duration will have a place in portfolios," Tannuzzo said.