Treasury's Adeyemo Says Spending Plan Meets Manchin's Demands
(Bloomberg) -- Deputy Treasury Secretary Wally Adeyemo made the case that the Biden administration's sweeping social-spending and tax plan now being wrangled over in Congress meets the objectives of holdout Senator Joe Manchin.
"The president's framework does satisfy Senator Manchin," Adeyemo said shortly after the West Virginia moderate laid out his objections to the so-called Build Back Better Act. "I understand that he wants to read the legislation that is written based on that framework. When you look at the framework, it includes fully paying for the legislation using tax increases on the wealthy and on corporations."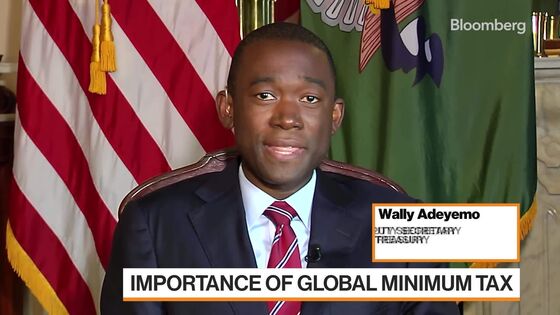 Manchin said Monday afternoon that he required more time to understand the bill's effects on the nation's fiscal debt profile and its inflationary consequences for the economy. With his vote crucial to passage of the bill, the comments made its swift passage unlikely.
The deputy Treasury chief argued that investments made by the $1.75 trillion program would help to reduce inflationary pressures. He also highlighted that a new global minimum tax inked at the Group of 20 by President Joe Biden and fellow world leaders would help pay for the bill.
"The global minimum tax deal included in the Build Back Better Act would help pay for the proposal in it," said Adeyemo in an interview with Bloomberg Television's David Westin. "They key thing to remember is that the president made a commitment and has kept it to pay for the Build Back Better Act. It will not add to our debt or deficit."
Adeyemo also defended the plan in face of criticism from observers including former Treasury Secretary Lawrence Summers that the tax measures don't do enough to address inequality. Summers, a paid contributor to Bloomberg, said last week that he was disappointed the bill doesn't feature items including boosting the top marginal income tax rate or the capital gains rate.
"The Build Back Better Act goes a long way towards addressing those issues of inequality by raising taxes on the wealthiest in America," Adeyemo said. The legislation "represents a compromise -- a compromise that includes a number of the proposals that he's advocated for, but doesn't include some of them. Our goal here is to make sure that we get the Build Back Better Act implemented because we know that it's going to include transformative changes for our economy," he said.