Treasury Might Hold Off Debt-Cap Reckoning to at Least October
(Bloomberg) -- The U.S. debt ceiling comes back into effect on July 31, but the administration can probably avoid hitting it until at least October, according to market analysts.
In its latest financing estimates released Monday, the Treasury Department said it anticipates a cash balance of $450 billion on July 31. In the past, expiration of debt-ceiling suspensions has required bringing the cash balance down to where it stood at the start of the suspension -- $130 billion in this case.
But with about $300 billion of so-called extraordinary measures available, strategists from Bank of America, Wrightson ICAP and Barclays estimate the government can remain funded into the fourth quarter. The Bipartisan Policy Center also now expects the drop-dead date to arrive in the fall.
"It seems to us that the Treasury will have enough cash and borrowing authority to operate normally through September 30 in the absence of an agreement to re-suspend the debt ceiling," Barclays strategist Joseph Abate wrote in a note to clients. "Depending on the strength of its cash flows, the x-date may slip deeper into Q4."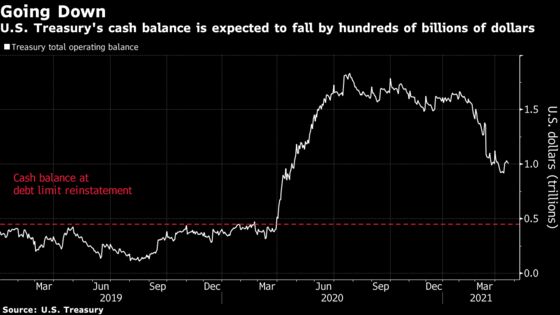 Bank of America strategists led by Mark Cabana see a risk of elevated outflows in August for pandemic relief, which would pull forward the drop-dead date into the first half of September. Until recently, they expected the government to run into technical default risk in mid- to late-August.
Treasury officials said they're evaluating a range of potential scenarios, including some in which extraordinary measures could be exhausted much more quickly than in prior debt-limit episodes.
Still, the projected cash balance of $750 billion at the end of September probably requires Congress to suspend or lift the debt ceiling, according to Wrightson ICAP economist Lou Crandall.
"Our guess is that the Treasury won't have enough leeway to hit its notional September 30 TGA target of $750 billion without a debt ceiling increase, but the Treasury probably won't be scraping along at rock-bottom levels at that point either," Crandall wrote in a note to clients.