Treasury Futures Wager on Steeper Curve Bags $30 Million Gain
(Bloomberg) -- A big bet on a steeper Treasury curve placed at the beginning of the week appears to be more than $30 million in the black following dovish comments by Federal Reserve Vice Chairman Richard Clarida Friday.
On both Tuesday and Wednesday, nearly identical pairs of futures block trades appeared to bet on a widening yield spread between the five-year note and the 30-year bond. They were executed at an average curve slope of 37 basis points and, combined, equivalent to a cash risk position of $3.6 million per basis-point move in the spread.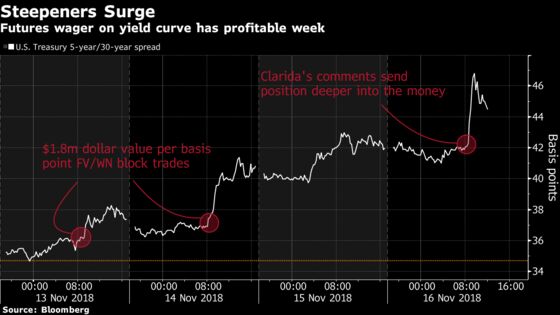 The gap blew out to a high of 46.9 basis points on Friday, the steepest level since March, after Clarida said the Fed needed to pay attention to slowing global growth in setting monetary policy, sparking Treasury gains led by the five-year. At that level, the curve trades would have a profit of more than $32 million.
Earlier this week, Atlanta Fed President Raphael Bostic and Minneapolis Fed President Neel Kashkari said the Fed's rate was close to neutral, which helped steepen the curve over the past three days.
The five- to 30-year spread already has retreated to about 45 basis points. It's safe to assume that futures flows will be monitored for signs of profit-taking into the weekend.