Treasury Futures Volumes Surge to Year's High on Midterm Fever
(Bloomberg) -- The U.S. midterm election results may have predictable and even boring, but not for those who traded Treasuries as the vote-count started.
Trading volumes in Treasury futures from the Tokyo open surged to more than 630,000 contracts, the highest for an Asian session this year that compares with an average daily volume of 122,000. The numbers captured activity after Fox News reported that the Democrats had gained control of the House of Representatives.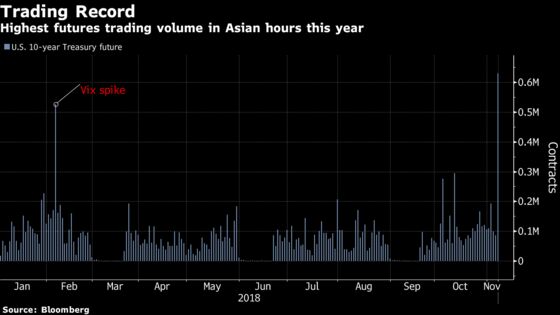 The surge in trading was due in part to investors unwinding bets put on before the vote, while there was also interest to establish new positions once the outcome became known, according to John Davies, a U.S. interest-rate strategist at Standard Chartered Bank.
There was some speculation that traders based on the west coast of the U.S. were active in the Asian session, given their proximity to the time zone, as the impact on Treasuries "was expected to be significant on tail-risk Republican or Democrat sweep outcomes," said Davies. "The actual result is reasonably close to what we perceived to be the consensus of a split Congress."
While volumes tailed off slightly in European hours, they were still more than 1.8 times the average as of noon London, ahead of the U.S. trading session.