Bond Traders See 'Green Light' to Keep Driving the Curve Steeper
(Bloomberg) -- The Treasury yield curve steepened to the widest in two months after Federal Reserve Chairman Jerome Powell announced a shift to a more relaxed approach on inflation.
Powell said Thursday that the central bank will seek inflation that averages 2% over time, a level officials have failed to attain consistently in recent years. He said the move reflects "our appreciation for the benefits of a strong labor market, particularly for many in low- and moderate-income communities."
Lengthier maturities, which are more vulnerable to quickening inflation, sold off sharply. The 30-year bond yield rose 10 basis points, the most in two months, eclipsing 1.51%, while the curve from 5 to 30 years reached 120 basis points, the biggest gap since June. On Friday, the move extended during the Asian trading session and held into European hours.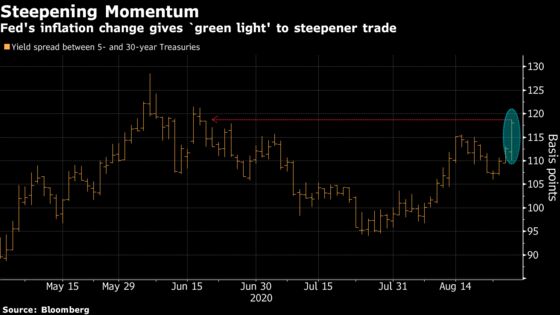 "When the Fed is seemingly striving for inflation, that's not good for the bond market, particularly the long end," said Russ Certo, managing director of rates at Brean Capital. Powell's comments were "not traditional systematical guidance points that the Fed has traditionally delivered -- with him being so explicit in the view for a desire to create inflation, or willingness to accept inflation. All of this means a steeper curve."
Expectations for such a shift from the Fed have been growing, and were partly behind the steepening trend in the past month. Following Powell's address, a number of Wall Street strategists reiterated their recommendations. JPMorgan Chase & Co. and Morgan Stanley continue to prefer holding steepener positions in Treasuries, while Citigroup Inc restated a preference for 30-year inflation-linked bonds.
"Powell green lights steepeners," Neil Dutta, head of U.S. economics at Renaissance Macro Research, said in a note. "The inflation strategy is basically a conduit for the Fed to pursue its goals of running the labor market hot."
The selloff spilled over globally.
While 30-year Treasury yields climbed six basis points on Friday, yields also advanced from Australia to Germany. The benchmark 10-year Aussie debt rose as much as 12 basis points as crowded long positions, following a record bond sale this week, were cut, according to traders who asked not to be named. Germany's 10-year yield climbed two basis points to minus 0.38%, the highest level since June.
"The bigger questions for the Fed and the markets now revolve around the implementation challenges around such things as how they determine 'the average' which Powell refused to give details on," Matt Sherwood, head of investment strategy, multi asset from Perpetual Investments in Sydney, wrote in a note.
A fixed-income measure of inflation expectations initially dove following Powell's comments, then rebounded. The 10-year breakeven was at 1.75%, the highest since January and up from as low as 0.47% in March.
The initial dip in breakevens came amid some profit-taking after a run-up in recent weeks in anticipation of the announcement, said Subadra Rajappa, head of U.S. rates strategy at Societe Generale. Their limited reaction suggests traders expect it will remain difficult for the central bank to achieve its inflation goal, she said.
"The concern even ahead of this announcement from Powell is how they are going to be able to credibly achieve the 2% inflation averaging given for years they haven't been able to achieve 2% on a consistent basis," Rajappa said.