Treasury Curve May Keep Flattening No Matter What Jobs Data Show
(Bloomberg) -- The U.S. Treasury yield curve may continue to flatten irrespective of what the latest jobs report shows.
While the median estimate of economists surveyed by Bloomberg is for Friday's U.S. non-farm payrolls data to show 198,000 jobs were added in November, a number higher or lower may do little to unsettle concerns about an impending economic downturn. A weak figure may suggest a slowdown is already underway, while a strong number could boost the prospect of an interest-rate increase by the Federal Reserve this month, pushing up front-end yields.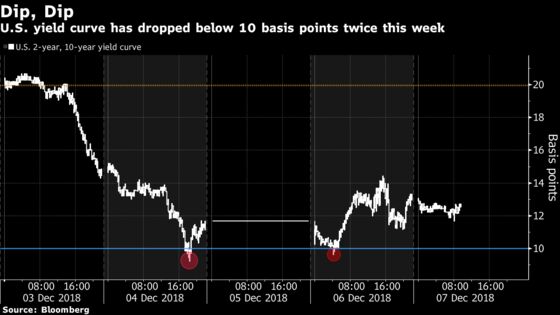 A strong report "may add to the recession fears from curve flattening as it should keep the Fed December hike in play," Commerzbank AG strategist Christoph Rieger wrote in a note to clients. "The fear of an economic slowdown weighs on the equity market, triggering flight to safety, pulling long-end yields lower and pushing the curve closer to signaling a recession."
The U.S. yield curve, seen as foreboding a recession when it inverts, has sharply flattened this week amid flight-to-safety bids spawned by a slump in global equities. The yield gap between two- and 10-year bonds has twice dipped below 10 basis points, while shorter-dated curves have already turned negative.
"We have these very pronounced end-of-cycle fears in the market and you see that in the shape of the curve," Ralf Preusser, global head of rates strategy at Bank of America Merrill Lynch, told Bloomberg Television.
"If we get a weak number, it means the Fed's going to be more dovish, it means that risk assets could potentially bounce," he said. "On the other hand, if we get a really good number, it should be good, but it could be perceived to be bad because it could turn the Fed more hawkish."