Traders Amp Up Fed Hike Bets on Powell, Driving Yield Curve Flatter
(Bloomberg) -- Traders boosted bets on the pace of Federal Reserve policy tightening on the back of comments by Chair Jerome Powell about the prospects for faster asset-purchase tapering, pushing the Treasury yield curve to its flattest level since the early months of the Covid pandemic.
The yield on the 30-year bond fell as much as 8 basis points to 1.77%, its lowest since January. The move took its yield premium over the five-year rate, a widely watched measure, down more than 11 basis points to 59 basis points, a level last seen in March 2020.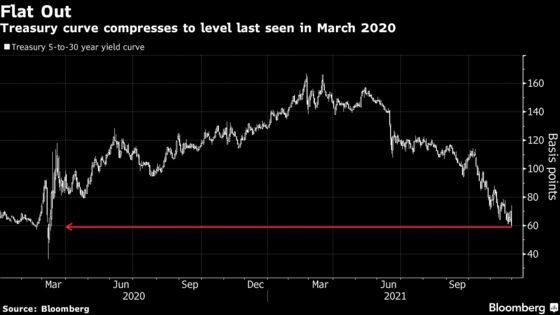 The curve between 2 and 10 years also narrowed more than 10 basis points after Powell, testifying before Congress, said the central bank can consider wrapping up tapering a few months sooner. The current pace of tapering has the Fed on track to finish all asset purchases by the middle of next year. A quicker end opens the door to potentially starting actual hikes to the fed funds target sooner as well. 
The central bank boss also acknowledged that it's time to stop using the word "transitory" to describe inflation.
"The knee-jerk reaction is a flatter curve and higher funding rates, but if the Fed has to move sooner rather than later, is 100 basis points going to make a difference to slow the economy down?" said John Fath, managing partner at BTG Pactual Asset Management. "And where does the long end belong if there's extended, elevated inflation?"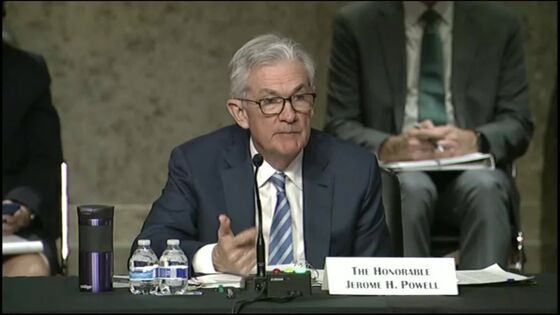 The 2-year rate climbed as much as 8.5 basis points to 0.57%, and its high for the day was around 13 basis points above the intraday low. Money markets now show close to 60 basis points of hikes -- more than two standard quarter-point increases -- priced in by the end of 2022. They had been showing closer to 50 basis points at the close of trading Monday. The first full hike remains priced for July.
Powell's comments likely mean "that the Fed is going to continue tapering and removing liquidity from financial markets," said Nancy Davis, chief investment officer at Quadratic Capital Management. "That means the potential for additional market volatility."