Treasury Bill Supply Cuts Loom as U.S. Debt Ceiling Set to Return
(Bloomberg) -- The U.S. Treasury is facing growing pressure to slash its bill supply to meet a debt ceiling target poised to be reinstated at the end of the month.
The potential return of the debt limit, last suspended in 2019, will force the department to cut its cash balance to around $450 billion by the end of July, from more than $700 billion on June 29. That means cutbacks in bill offerings will be needed to help draw down the balance. But after announcing plans to keep sales unchanged next week, the Treasury will only have three weeks left to rein in supply.
"I'm going to keep calling for the cuts until they happen," said Jefferies economist Thomas Simons, who expected changes to supply to begin next week. "Treasury has a lot of work to do to get down to $450 billion."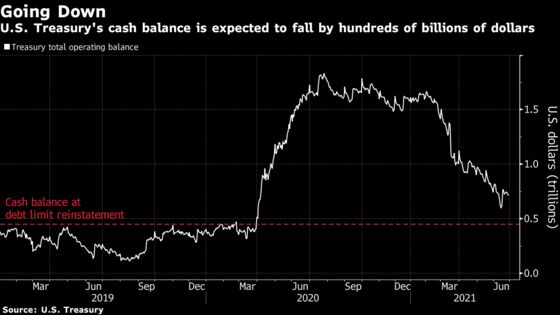 Jefferies estimates bill supply may decline by as much as $200 billion to $300 billion in July, depending on tax receipts during the month and the pace of outlays. That compares with slightly more than $680 billion of supply the Treasury has removed from the market in the first six months of the year.
The reinstatement of the federal debt ceiling at the end of July also means the mismatch between low supply of short-term securities and surging demand could get a lot worse. The ongoing imbalance in the front-end has been fueled in part by the Federal Reserve's bond-buying program and the federal government's fiscal stimulus.
The resulting surfeit of cash in money-market funds has held rates on short-term instruments ranging from bills to repurchase agreements near or below zero since the beginning of the year, and pushed demand at the Fed's reverse repo facility close to $1 trillion.
Demand for the Fed's operation Thursday saw the largest one-day decline since 2016 as 70 counterparties took $742.6 billion as quarter-end pressures abated, New York Fed data show. That's down from an all-time high of $992 billion on June 30. Usage is expected to pick up again as the Treasury's drawdown accelerates.
After the end of July, the Treasury may have brief window to increase bill supply. That's when extraordinary measures get implemented to cover temporary government spending needs. But by late-August, supply will have to be cut to keep outstanding Treasury debt under the limit and prevent disruptions to the coupon auction calendar, according to Simons.
Still, with a month to go before a the suspension runs out, the U.S. Congress lacks a clear plan to raise it, even as the majority Democrats express confidence that a payments default will be avoided.