Treasury Auctions Test Appetite for Highest Yields Since March
(Bloomberg) -- Tuesday's U.S. Treasury auction gives investors an opportunity to buy 10-year notes at the highest yield in months. Whether that's enough compensation for the growth and inflation risks they're worried about remains to be seen.
The $38 billion auction is the second reopening of the 10-year note that matures in November 2030, bringing its total size to a record $117 billion. The issue debuted at 0.96% and ended 2020 trading at 0.913%. Tuesday it touched 1.175%, within 10 basis points of its March high.
The selloff -- which sent the 30-year bond's yield to within three basis points of its March high Tuesday -- extended a move sparked by last week's Georgia runoff elections that gave Democrats a majority in the Senate, clearing a path for President-elect Joe Biden to deliver on promises of expanded pandemic relief measures. This week's Treasury auction cycle concludes Wednesday with a $24 billion reopening of the 30-year. Its yield has risen each day this year.
The auctions are a moment of reckoning for Treasury traders who have been piling into reflation bets, pushing yields higher led by the 10-year. The spread between 2- and 10-year yields this week exceeded 100 basis points for the first time since May 2017, and the 10-year has significantly underperformed on the curve so far this year.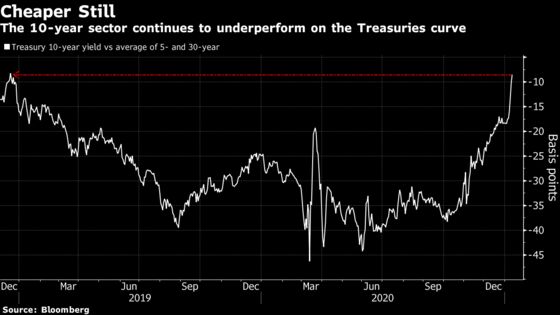 Complicating matters, several Federal Reserve officials in the past week have said they're open to slowing the pace at which the central bank has been buying Treasury securities under a program rolled out in March to stabilize the market. That prospect has helped steepen the curve and may give auction bidders cold feet. Meanwhile, there's been little dip-buying during Asia trading hours, when it's normally common.
Also of note for Tuesday's auction at 1 p.m. New York time:
Event risks include a raft of economic data releases led by the Consumer Price Index and speeches by several Fed officials Wednesday-Friday, including one by Chair Jerome Powell on Thursday
Latest CFTC positioning data show speculators were net long 131,000 Ultra 10-year contracts and also slightly net long 10-year note contracts
Primary dealers' position in 7- to 11-year Treasuries was net long $8.4 billion in the week ended Dec. 30

vs

the $4.1 billion average net long over the past year
Last six reopening avg.
Low
High
Bid-to-cover
2.40
2.26
2.62
Dealer award
25.3%
19.6%
31.5%
Direct award
14.3%
11.8%
17.0%
Indirect award
60.5%
56.7%
63.4%
Prior auction was awarded at 0.951%, tailing the WI by 0.4bp