Treasury Auctions' Fading Direct Bid Has Foreign Demand in Focus
(Bloomberg) -- Weaker demand has become a feature of some recent U.S. government bond sales, and one metric in particular is raising eyebrows: the drop-off in direct bids.
This class of customer has no distinct profile -- direct bidders comprise a grab-bag of institutions and banks that can bypass the primary-dealer intermediaries at Treasury auctions. International demand is typically considered to be reflected in the indirect-bid category, but some foreign reserve managers, such as China, have gained direct access.
NatWest market strategist Blake Gwinn says the decline in direct bids has a straightforward explanation: "A large reserve manager lowering participation."
"If you look at what happened to twos, fives, sevens and now threes, this is a pretty across-the-board pullback from auctions by someone," he said.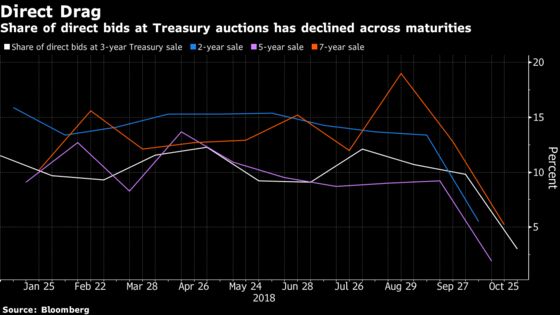 Monday's $37 billion sale of three-year Treasury notes was the latest example, with direct bids taking the lowest share of the offer since 2009. The decline comes at a crucial time for the Treasury, as its borrowing needs ramp up to feed a projected $1 trillion federal deficit.
NatWest is among banks expecting this combination of increasing supply and dwindling demand to drive Treasury yields higher. The long end of the curve is most sensitive, in Gwinn's view, given the relatively narrow base of buyers in this sector. NatWest sees the 30-year yield around 3.50 percent at the end of this year, from about 3.43 percent now.
"We have foreign reserve managers and accounts that tend to be there regularly at auctions," he said. "If any of them step back in this environment when you're dumping more and more supply, the pressure is going to be toward higher yields."
He's not expecting a catalyst that would drive a sudden reset, but "I think it's more of a slow grind."