Treasury Yields Veer Toward 2019 Lows
(Bloomberg) -- A trifecta of events drove a Treasuries rally Tuesday, pushing the 10-year yield below the range it's held for almost all of 2019.
Treasuries were influenced by more setbacks for U.K. Prime Minister Theresa May's Brexit strategy and a weaker-than-anticipated U.S. consumer price index. A strong auction of 10-year notes at a yield of 2.615 percent, below what had been the session's low point, also spurred the market.
"All three have very strong signaling for rates," said BMO rates strategist Jon Hill.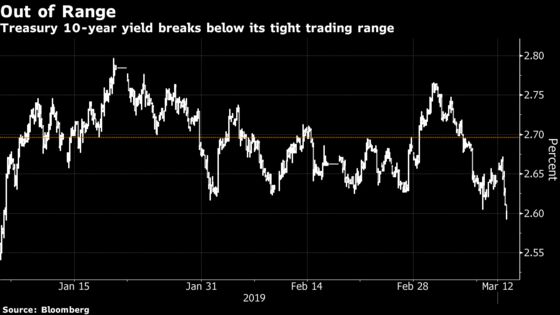 The benchmark rate slid as much as 5 basis points to 2.59 percent, the lowest level since Jan. 4, before recovering slightly to around 2.60 percent as of 4:13 p.m. in New York. Since the first week of January, the yield had ranged between 2.61 percent and 2.80 percent. The year-to-date low of 2.54 percent is the next key threshold, according to BMO's Hill.
The moves came as inflation data once again disappointed in the U.S., with year-on-year consumer price gains running at just 1.5 percent, according to the latest official reading released Tuesday.
The 10-year yield dipped in the immediate aftermath of the U.S. morning release and extended its decline through the day as pressures mounted from the auction at 1 p.m. New York time. The British parliament's rejection of May's latest Brexit deal added to the downward pressure. Meanwhile, the gap between 2-year and 10-year yields narrowed to a level unseen since Feb. 21, while U.S. rate volatility has continued to crater.