The Treasury 10-Year Yield May Not Be Above 3% for Long
(Bloomberg) -- The days of a 10-year yield above 3 percent may already be numbered, according to Barclays Plc.
Rates strategist Rajiv Setia's call for the 10-year to reverse course comes less than a month after it surged above this psychological threshold. In his view, underlying economic activity in the U.S. can't support the 10-year at its current 3.16 percent, and he's targeting a decline to 2.95 percent.
This may seem aggressive given the recent spike higher in yields, and when most of Wall Street sees the benchmark comfortably above 3 percent by year-end. The fate of those forecasts looks shakier, however, in the wake of last week's equities sell-off, which pulled 10-year Treasury yields down from seven-year highs.
"The adverse reaction of the broader financial markets to the move higher in real yields suggests that unless data surprise to the upside of rather lofty expectations, any further sell-off is likely to be limited," Setia wrote in a research note dated Oct. 11.
Investors' conviction in higher long-term rates has proven lacking for much of this year -- the 10-year made several failed attempts at 3 percent before it vaulted over the hurdle in September.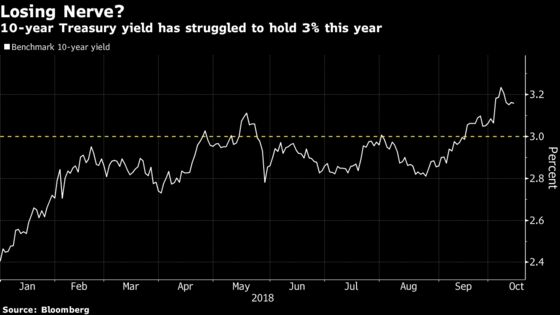 The latest U.S. economic data have also worked in Barclays' favor: Monday's retail sales release showed an increase of 0.1 percent in September from the prior month, below the 0.6 percent consensus forecast. The case for inflation to support higher yields is also lacking, in Barclays' view, and for the Treasury bulls at Bank of Montreal. BMO strategist Jon Hill noted that despite some encouraging wage-growth data, there's still little evidence of broader price pressures, judging by the latest, weaker-than-expected consumer price index reading.
"It would be less of a massive narrative shift to go back to a sub-3% 10-year than I think some of the market really realizes," Hill said.
By contrast, Bank of America Corp. and NatWest are among teams sticking to their calls for the benchmark yield to end the year higher, based on growth momentum and the risks of demand falling behind the increase in Treasury issuance.