Treasury 1-to-10 Year Spread Is Best Recession Tool: Wells Fargo
(Bloomberg) -- With the financial world fixated on a U.S. yield curve close to inversion, the 1- to 10-year yield spread is the one investors should focus on, according to Wells Fargo Investment Institute.
That curve's predictive power as a recession warning is better than others of different maturities, Wells Fargo said in a report last week. However, investors should look for four consecutive weeks of inversion and/or at least 25 basis points of differential before concluding the yield curve has meaningfully inverted, it said.
"If we had to select just one yield curve indicator to predict an upcoming recession, we would favor the 10-year Treasury yield minus the 1-year Treasury yield," wrote Brian Rehling, co-head of global fixed income strategy. "We would focus on four weeks of curve inversion as a trigger — as that indicator provides a bit more warning than using a 25 basis-point curve inversion threshold."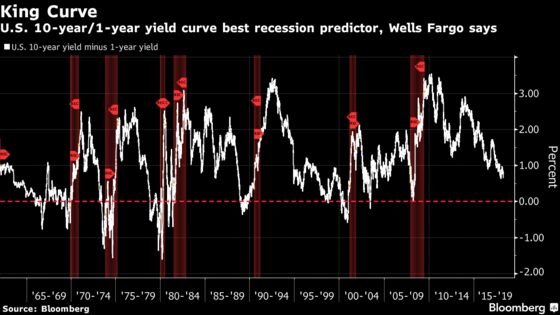 While the curve steepened last week for the first time in about a month, U.S. rates strategists are mostly of the view that flattening will resume. The Federal Reserve's resistance to political pressure over the pace of its rate hikes, the impact of protectionism on the economy, and supply and demand factors are seen outweighing the steepening effects of fading geopolitical and trade risks.
Wells Fargo expects a positive slope to remain well into 2019, with conditions staying favorable for risk assets. Still, here's a look at how it rated the forecasting power of yield curves using other maturities:
While the 10-to-2 year curve is "worthy of attention," any warning sign it gives should be confirmed with other indicators, according to Wells Fargo. It is prone to giving a signal that may be too early for investors to act on, so is at its most reliable when it inverts by at least 25 basis points, it said.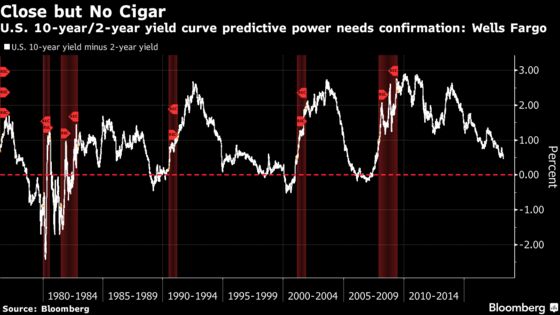 Using the 30-year Treasury yield minus the 10-year provided the most inconsistent recessionary signal of those in Wells Fargo's analysis. While inversion in the long part of the curve may provide investors with information about the market's longer-term economic outlook, it isn't a precise -- or necessarily useful -- tool for U.S. recession prediction, it said.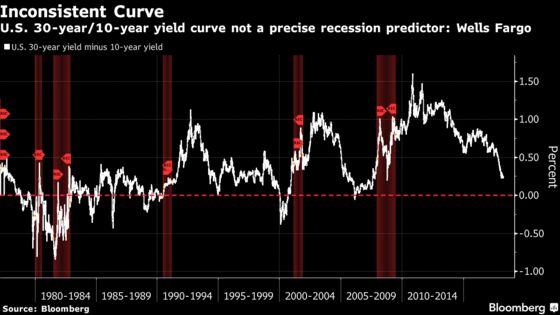 According to Wells Fargo, the near-term potential for this yield curve to invert is making some investors cautious when they shouldn't be. Inversion between these two maturities is of little predictive value, it said. "Investors should not be overly concerned if this portion of the yield curve does invert," the bank said.