Treasuries Selling Momentum Is Unabated as Yields Extend Climb
(Bloomberg) -- Treasuries bears still have plenty of momentum to close out the week, with volume surging as yields climbed toward the highest levels in years.
Not even a smaller-than-forecast increase in September U.S. payrolls or sliding stocks could put the brakes on the bond-market selloff. The yield on the benchmark 10-year note reached about 3.25 percent on Friday, the highest since 2011, putting it on track for the biggest weekly increase since February. At least one trader is wagering that a 3.6 percent yield is possible this year.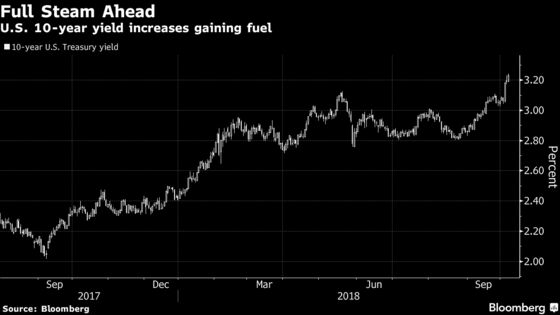 Bonds' slide started earlier this week on the back of stronger-than-forecast data on services and private employment. Traders also pointed to Federal Reserve Chairman Jerome Powell, who praised the economy's performance and said officials may go beyond the neutral policy rate threshold, though rates were currently a "long way from" that level.
"The Fed is basically saying there is a groundswell of economic activity that we see -- that you might not see," said David Robin, a strategist at TJM Institutional Securities Services. "Fixed-income markets had built themselves around a reality for which all bets are off now."
The increase in bond yields reflects the economic outlook, rather than alarm that the Fed would allow inflation to get out of hand, New York Fed President John Williams said on Bloomberg Television Friday. He said the central bank will keep gradually raising rates.
Not even a vote in the Senate to advance Brett Kavanaugh closer to confirmation to the U.S. Supreme Court slowed trading, futures data show.
For a story on how one trader is targeting a 3.6% yield, click here.
Treasury futures volume surged Friday as yields eclipsed Thursday's highs, with about 40,000 contracts trading in just over a minute in the New York morning on the 10-year note contract that expires in December.
"Powell and Williams aligned to give the same message," said Ben Emons, chief economist at Intellectus Partners LLC. "This Treasury trading today is about readjusting positions in duration hedging with the view that 3.5 percent is possible on the 10-year note, which wasn't thinkable for a long time."