Treasury Yield Curve Steepens to Four-Year High on Brexit Hopes
(Bloomberg) -- The Treasury yield curve touched its steepest level in four years as risk appetite improved amid signs that negotiators from the U.K. and the European Union have reached the outline of a historic post-Brexit trade deal.
The gap between 5- and 30-year yields expanded on Wednesday to its widest since November 2016 as investors sold long-term debt and stocks climbed given the potential for reduced trade tension and a brighter outlook for the global economy. The sustainability of the move remains a wild card given uncertainty over the U.S. stimulus package, after President Donald Trump demanded changes.
Short-term rates held mostly steady given the Federal Reserve has made clear that it won't lift its policy rates for years. Longer-term yields, however, climbed with the 10-year nearing the psychological 1% mark it hasn't reached since March. Some signs of improvement in the U.S. labor market also helped lift the 10-year yield, to as high as 0.9713%.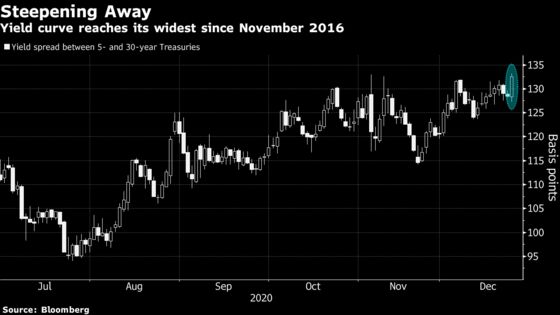 "For years, the world has been waiting for a final deal on Brexit," said Glen Capelo, head of rates sales and trading at Mischler Financial. "Any final positive Brexit deal (no hard exit) would finally dissipate the cloud hanging over the entire European Union. So look for global long-end rates to move higher as a wave of pent-up investments can now be made across the continent and especially in the U.K."
Capelo says he sees the 10-year Treasury "trying to push back toward 1% as the curve steepens," and making new highs in the 2-to 10-year spread.