Treasuries Extend Gains After Section of Yield Curve Inverts
(Bloomberg) -- U.S. Treasuries rose after a segment of the yield curve inverted for the first time in more than a decade, as investors doubt how much longer the Federal Reserve will keep raising interest rates.
Officials from the central bank have begun to strike a more dovish tone, leading traders to pare bets on the pace of hikes and push down the dollar on Tuesday. The yield spread between three- and five-year yields turned negative for the first time since 2007 and could be a sign that the gap between two- and 10-year bonds will shortly follow, according to Mizuho International Plc.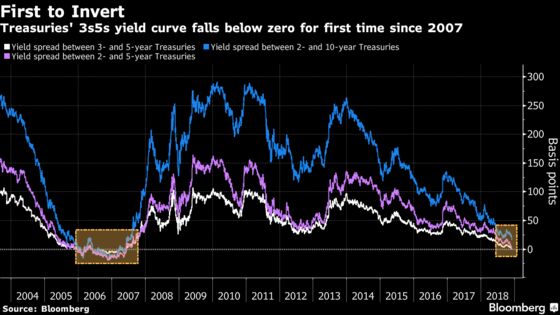 "The curve inversion at the front end is confirming that the end of the Fed's hiking cycle is closer than most have thought," said Antoine Bouvet, an interest-rate strategist at Mizuho. "It is our expectation that 2s10s will follow and invert during the course of next year as investors turn bearish risky assets, but as the Fed continues hiking at a slower pace."
U.S. 10-year yields fell two basis points to 2.95 percent by 9:32 a.m. in London, the lowest level since Sept. 13, while the dollar weakened against all Group-of-10 currencies. The yield spread between three- and five-year bonds was at minus one basis point.
The spread between two- and 10-year rates, which has narrowed to the flattest since 2007 at 14 basis points, is more closely watched as a potential indicator of pending recessions. Curve flattening over the past two years has signaled investors' concern that rising rates against a backdrop of slowing global growth could harm the U.S. economy.
Fed Chair Jerome Powell said last month that borrowing costs are "just below" a range of estimates of the so-called neutral level, while Bank of Dallas President Robert Kaplan has said that the economy could look "very different" next year.