Treasuries Steepen as Fed Leaves Bond-Buying Plans Unchanged
(Bloomberg) -- The Treasury market posted a modest selloff Wednesday after the Federal Reserve left its bond-program unchanged, while making clear that it could take action down the road if needed.
The gap between 2- and 10-year yields briefly climbed back toward the day's widest levels after the release of the Fed's policy statement, before paring to finish the day just marginally wider. Earlier in the day it reached its steepest since October 2017 amid signs U.S. lawmakers are close to a deal on a virus-relief package.
With the two-year yield relatively immobilized by expectations that the Fed will keep its policy rate at 0%-0.25% indefinitely, changes in Treasuries occur mainly in longer maturities, causing the curve to steepen in selloffs and flatten in rallies. Investors watch the spread as a barometer of expectations for the economy, with steepening suggesting a brighter outlook.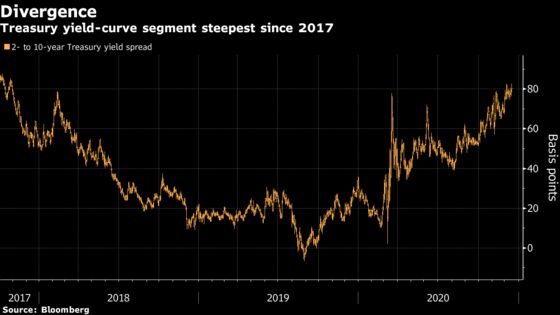 "Powell did say the right things in the press conference -- saying they will be there if they need to be," regarding adjusting asset purchases and other measures, said Andy Brenner, head of institutional fixed income at National Alliance.
The 10-year yield briefly rose in the wake of the Fed's announcement that it would plow on with its monthly purchases of about $80 billion in Treasuries. The move higher came initially as some were disappointed given speculation in advance of the meeting that officials would reveal a plan to tilt toward longer-term securities. Yet traders still saw the door open for action in the months ahead.
"Anytime we feel like the economy could use stronger accommodation -- we would be prepared to provide it," Chair Jerome Powell told reporters Wednesday during a press conference. "But right now we think it's the right amount."

The 10-year yield rose as much as 4.3 basis points to 0.951% earlier Wednesday, after reports that U.S. lawmakers are closer to an agreement on a pandemic relief bill. It last traded at about 0.92%, about 80 basis points above the 2-year rate.
"The market was way ahead on their estimate that the Fed would increase" the weighted average maturity of bond purchases, said Tom di Galoma, managing director of government trading and strategy at Seaport Global Holdings.