Treasuries Curve May Never Really Steepen Without a Fed Rate Cut
(Bloomberg) -- The Treasuries yield curve just can't quite get any steepening mojo even with the Federal Reserve's pivot this year to a neutral policy stance.
Diminished expectations that the Fed will ratchet rates higher have sparked some investors to call for the yield gap to expand, including DoubleLine Capital LP's Jeffrey Gundlach. But key gauges are still not far above 11-year lows. That's mostly because inflation remains tepid, global risks related to Brexit and trade have sparked demand for U.S. debt, and traders are only pricing in a few basis points of Fed cuts by December.
The spread between 2- and 10-year rates -- the most closely watched part of the curve -- dwindled to 9 basis points in December and hasn't rebounded much since. It was about 15.5 basis points Wednesday. To be sure, the forwards market sees it doubling to about 30 basis points in a year.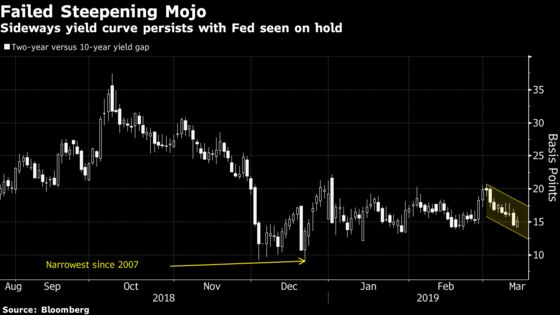 "If the Fed keeps rates anchored and we continue to have no inflation or real wage growth, then you just can't get a steeper curve," said Kevin Jackson, a managing director on the mortgage trading desk at Wells Fargo Securities. "The only way it could steepen is if the Fed cut rates, and I don't see them doing that. U.S. benchmark rates will remain low for a protracted period and flattening will persist."
The Fed has signaled it will be patient in adjusting rates, and also that it will likely soon announce a plan to stop shrinking its $4 trillion balance sheet. Yet the exact timing of that shift remains unclear.
If the Fed is still shrinking the portfolio in the third quarter, it's hard to envision it cutting rates before 2020, said Steven Major, global head of fixed-income research at HSBC Holdings Plc.
To justify the "bullish steepening" that's being priced into the forward curve would require a "high conviction'' that the Fed will cut rates, Major wrote in a note Tuesday.
The 10-year yield will end 2019 at 2.5 percent, according to Major. It traded on Wednesday at 2.61 percent.