Selloff in Short-Maturity Treasuries Delivers 1% Yield to Buyers
(Bloomberg) -- Another round of increases in short-term Treasury yields Tuesday succeeded in drawing demand to the first of this week's three coupon auctions -- a three-year note sale whose 1% interest rate compares with 0.75% for the current issue, sold last month.
The prospect of tighter Federal Reserve policy, with rate hikes seen starting by the middle of next year, has pressured the policy-sensitive sector of the bond market. With inflation data for November due at the end of the week and the Fed meeting next week, short-dated Treasury yields are near the highest levels of the year.
The yield on 2-year notes rose as much as 6 basis points to 0.692%, a new high for the year. Similar to Monday, when yields across the curve increased by 4 to 10 basis points, the move in Treasuries on Tuesday was accompanied by steep stock-market gains and a heavy slate of new corporate bonds. 
Shaky demand for several recent Treasury auctions -- including last month's three-, 10- and 30-year sales -- hovered in the background, however, and the new three-year was the first coupon auction since the Fed's hawkish policy pivot last week. 
The Treasury sold $54 billion of three-year notes at 1%, the highest auction yield since February of 2020, but slightly lower than the yield in pre-auction trading, a sign demand exceeded dealer expectations. Strong demand from investors left dealers with a 29.8% share which, while higher than last month's, is among the lowest of the past decade.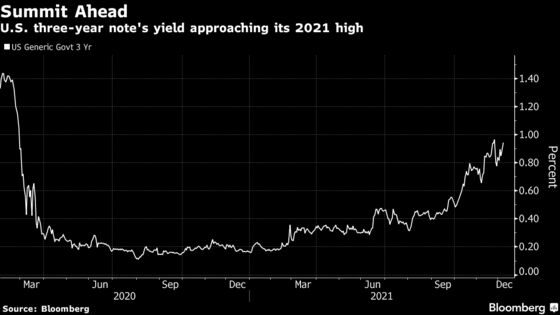 Auctions of 10-year notes and 30-year bonds over the next two days will complete this week's Treasury coupon supply schedule, and once the 3-year sale was completed, long-dated Treasury yields climbed, with the 10-year rising more than five basis points to 1.485%. 
Last month's 30-year auction missed its target by the widest margin in years. The 30-year yield in late trading was higher by less than three basis points at 1.80%, and its spread to the five-year ended the session around 54.5 basis points after touching 51.5 basis points, a new low for the year. 
The yield-curve flattening trend gathered pace after last week's Fed shift as concerns about the impact of higher rates on economic growth began to supplant inflation fears. Institutional demand for long-maturity bonds following a period of steep gains for U.S. stocks is also a factor, strategists have said.