Tour Operator TUI Plans $1.3 Billion Stock Sale to Cut Debt
TUI AG will raise 1.1 billion euros ($1.3 billion) by selling new stock, making it the latest travel company to tap investors for cash to reduce a giant pandemic debt pile.
The share sale, at a discount price of 2.15 euros each in a rights offering, will allow the world's biggest tour operator to reduce its draw on a state-backed rescue loan to zero, TUI said Wednesday in a statement.
Airlines have been selling stock to firm up balance sheets as easing border restrictions begin to revive bookings. Deutsche Lufthansa AG on Wednesday completed a 2.16 billion-euro rights issue to help pay down a 9 billion-euro government bailout package, while EasyJet Plc announced a 1.2 billion pound capital raise last month.
Shares of Hanover, Germany-based TUI fell as much as 2.6% before trading little changed at 326.7 pence as of 2:15 p.m. in London, where it has its main listing.
In Frankfurt, Lufthansa shares slipped 2.3% to 5.89 euros. The government's economic stability fund will now own 14.1% of the company, down from a 20% holding amassed during the crisis.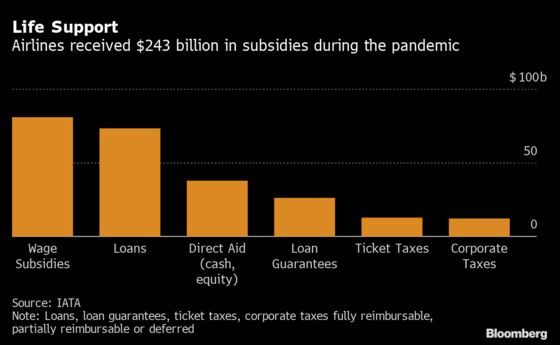 Bloomberg reported in June that TUI was exploring ways to raise about 1 billion euros in fresh capital to help it pay back state bailouts.
TUI has been the beneficiary of three government-support packages since the pandemic hammered its core business, taking mainly British and German tourists to warm-weather destinations. The company, which operates airlines, hotels and cruise ships, has relied on the German government and private investors to pitch in on prior financing, while also selling off some assets.
With the TUI offering, European airlines will have announced $8.91 billion in equity fundraising this year, out of a global total of $21.8 billion for the industry as a whole, based on data compiled by Bloomberg.
Air France-KLM, Jet2 Plc and Wizz Air Holdings Plc are among other carriers in the region to have sold shares earlier in 2021.
Airlines have had a total of $243 billion in government support, according to the International Air Transport Association, approaching half of which needs to be paid back.
A return to positive cash flow this past summer gives TUI's management some breathing space as it plots an exit from the crisis, provided the recovery doesn't falter yet again. 
The company also said it expects a wider return to international travel this winter season with capacity significantly better than last year. Still, it expects to operate only at 60% to 80% of normal levels.
The fully underwritten rights offering, at a 35% discount, will cut TUI's debt to 6.5 billion euros from 8.7 billion euros, the company said. Top shareholder Unifirm Ltd. will exercise rights for its entire 32% stake. The offering will run from Oct. 8-Nov. 2. 
Unifirm is controlled by the family of Russian billionaire Alexey Mordashov.