Bond Traders Are Still Leaning Toward Another 2019 Fed Rate Cut
(Bloomberg) -- Terms of Trade is a daily newsletter that untangles a world embroiled in trade wars. Sign up here. 
Futures traders are still leaning toward another quarter-point of easing from the Federal Reserve this year, though their confidence has wobbled.
As the Fed delivered its second rate cut in a row Wednesday, contracts remained priced for another reduction by-year end. That expectation was only slightly shaken as Chairman Jerome Powell discussed the resilience of the U.S. economy, and policy makers' projections showed that most envisage no cuts this year or next.
Traders may be focusing instead on the increasingly polarized views on the Fed. The three dissents to the Fed's decision included two who wanted no move, and one call for a deeper cut.
The January 2020 fed funds futures contract was at 1.65% late in New York trading -- still mostly priced for a third quarter-point cut this year -- up from 1.64% just before the Fed statement. That means traders expect another move from either of the Fed's two remaining meetings this year -- on Oct. 30 and Dec. 11.
"We believe there's at least one more cut coming this year," said Bob Gahagan, portfolio manager at American Century Investments. "The manufacturing sector is impaired, and it's pretty much baked into the cake given the duration of the trade wars."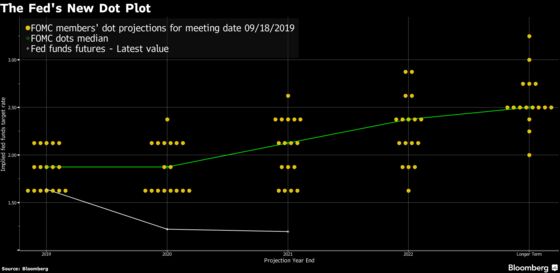 The market's pricing is a little more challenging to interpret than usual, given the recent upheaval in funding markets. The calculation that almost one more cut is factored in for this year assumes that the effective funds rate moves toward the middle of the Fed's new target range of 1.75% to 2%. The effective funds rate rose above the previous range of 2%-2.25% as of Tuesday, at 2.30%.
That market pricing for further Fed easing may also include further adjustments to the interest rate on excess reserves, which the Fed also lowered Wednesday, by 30 basis points.