Traders Ramp Up BOE Bets to See Key Rate at 1.25% Next Year
(Bloomberg) -- Traders are betting the Bank of England will look through risks from the omicron strain to hike its key interest rate above 1% next year for the first time since 2009. 
Money markets are now pricing 100 basis points of policy tightening from the U.K. central bank in Dec. 2022, according to sterling overnight index swaps. That would push the BOE rate up to 1.25% from 0.25% currently, leaving behind the record-low levels of the pandemic era.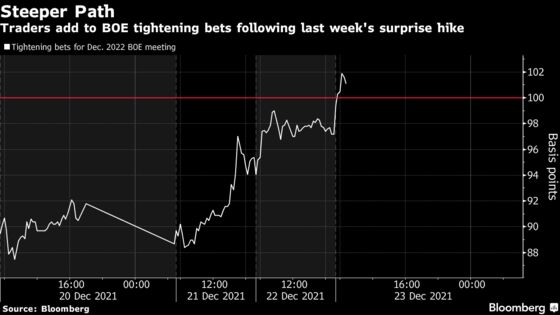 The wagers follow a surprise move by policy makers to lift rates last week despite the new coronavirus variant threatening more restrictions. The BOE is under to pressure to act as inflation is at its highest in over a decade at 5% and isn't seen peaking yet.
"Concerns over the inflationary environment in 2022 and the level of persistence in the price pressures are warranted," said Simon Harvey, senior market analyst at Monex Europe. "We've seen central banks start to acknowledge this over the past month, but 1.25% from the Bank of England looks a bit stretched in our view given current conditions."
The market bets rely on omicron not derailing the U.K. economy, even as data suggests it was losing momentum before supply shortages set in and the new variant emerged. While Prime Minister Boris Johnson has ruled out further restrictions before Christmas, ministers may yet move to impose further curbs after Dec. 25. The U.K. has reported more than 100,000 new coronavirus cases in a day for the first time.
READ: U.K. INSIGHT: Britain's Lockdown by Stealth Carries Heavy Price
Still, the pricing is all the more notable given rate hikes would come on top of the BOE's plans to remove stimulus through the bond market. Once its rate reaches 0.5%, the central bank has said it would stop reinvesting the proceeds of its maturing bonds. After the rate reaches 1%, there could be an active sale of gilts.
"Market participants' reluctance to price in rates rising much beyond 1.00% could continue to reflect the BOE's plans to begin quantitative tightening next year," said Lee Hardman, a currency analyst at MUFG. "We continue to believe that the U.K. rate market appears well priced at the current juncture for up to four BOE hikes next year."