Traders Question Global Hawkish Policy as Omicron Risk Heightens
(Bloomberg) -- It's getting harder to convince traders that central banks can walk the hawkish talk as concerns over the omicron variant intensify.
Traders already reluctant to price the aggressive path of rate hikes charted by Federal Reserve policy makers last week got more reason to doubt on Monday, as European lockdowns offered a preview of what could await the rest of the world as the variant spreads. And in the U.S., the prospects for extra fiscal support took a hit as President Joe Biden's tax-and-spending plans were thrown into turmoil.
In the U.K., money markets backed away from wagers on a quarter percentage-point rate increase in February. That contrasts with price action last week, when the Bank of England's shock hike prompted traders to ramp up tightening bets. 
"We've had hawkish central banks last week but growth may have greater downside risks due to omicron," said Geoffrey Yu, senior EMEA markets strategist at BNY Mellon. "With the Fed right now, I think people may need to rethink whether the fiscal side is going to be as plentiful." 
Central banks had emphasized inflation risks from the omicron variant were two-sided, potentially exacerbating price pressures. But the risk of hiking into an economic slowdown is enough to fan investor fears, with thinner trading during the holiday period possibly amplifying market moves. 
The surprise news of Joe Manchin's rejection of President Joe Biden's economic agenda also highlighted the risk that growth could be undermined by a lower fiscal impulse. 
Five-year Treasury yields fell to their lowest since the beginning of December, before paring some of the move during the European trading session after Moderna Inc. said a third shot of their vaccine could boost antibody levels against the new variant.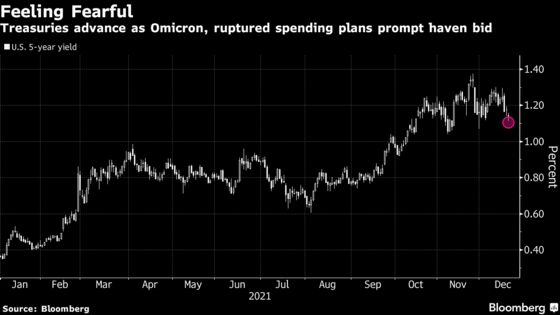 In the U.K., there's clear scope for rate-hike expectationsto be scaled back, according to BNY Mellon's Yu.
Traders are pricing about three 25-basis-point increases by August, and such an aggressive path of hikes should be "off the table" if a new lockdown is implemented in the nation, he added.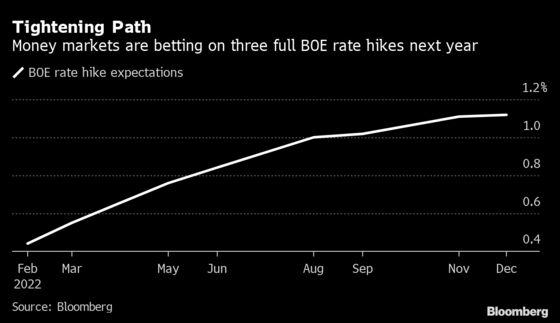 The British government is currently debating following other European nations into lockdown over Christmas as Omicron cases in the country continue to climb, with the economic recovery already being hobbled by decreased activity and -- so far -- little fiscal support. 
U.K. 10-year yields fell by as much as five basis points to 0.71%, before paring declines. The pound weakened by as much as 0.6% against the euro to 85.45 pence. 
"So much for the no-brainer notion that yields will rise if the central bank is tightening policy," Rabobank analysts including Richard McGuire wrote in a note Monday. "Not if the move is seen as a bout of sado-monetarism they won't."