Traders Push Inflation Gauge to 13-Year High as Debate Rages
(Bloomberg) -- As seemingly every policy maker and market prognosticator jumps into the inflation fray, those who are putting their money where their mouths are have pushed one gauge of expected price pressures to an almost 13-year high.
The five-year breakeven rate, a proxy for the annual inflation rate bond traders expect over the span, breached 2.7% Wednesday, the highest since July 2008. The move occurred as a key gauge of prices paid by service providers climbed for a third straight month, also to the highest in more than a decade, stoking further debate on the inflationary pressures building across the economy.
Meanwhile, the 10-year rate, which is less sensitive to changes in commodity prices, hit a multi-year high Wednesday. Though these longer-term breakeven rates remain below the 5-year, suggesting that bond markets are less concerned about inflation further down the road.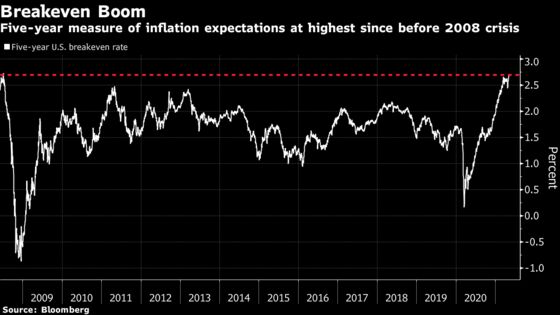 Speculation over the pace of U.S. inflation is reaching a fever pitch as so-called reflation trades, on a tear in recent months amid the reopening of the global economy, have taken a pause in recent weeks. Intense debate has emerged over whether actual price pressures will be temporary as Fed officials suggest. Many in the market argue otherwise, especially as commodity prices surge and supply shortages intensify.
Read More: Transitory Inflation is Priced But a True Revival Surely Isn't
The moves reflect a number of "binary imponderables" currently playing out, said Rabobank strategist Richard McGuire. Concerns about large post-pandemic inflationary impulses are clashing with the reassurances of policy makers that rising prices will be transitory, "highlighting the uncertainty besetting the future."