Traders No Longer See Negative Rates Even as BOE Readies Them
(Bloomberg) -- Markets are discounting the chances of negative interest rates in the U.K., just as the Bank of England is finally about to say whether it might pursue them.
That shows traders believe policy makers may wield the threat of negative rates without actually implementing them, hours before the central bank releases a review into how it might implement the policy. They're betting rates will stay at zero or above through to May 2022, according to sterling overnight index swaps on Thursday.
"The irony is that on the day negative rates are officially added to the BOE's toolbox, the markets are pricing out such a possibility," said Antoine Bouvet, senior rates strategist at ING Groep NV.
It's a turnaround, given just last month money markets were pricing a cut below zero as soon as this year. The switch in mood, which has also boosted the pound, is based on faith in a faster U.K. economic recovery thanks to a vaccine rollout that is beating peers.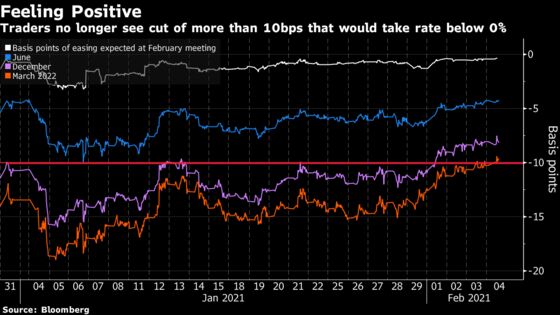 The controversial policy of negative rates has already been used in the European Union and Japan. It pits the desires of policy makers to keep the cost of debt low enough to spur a recovery against the concerns of banks, which say the monetary experiment is hurting business and upending the financial system. The BOE's key rate is already at an all-time low of 0.1%.