Traders Ditch Loonie as Virus Sparks Fear Ahead of Rate Decision
(Bloomberg) -- Even on a day when the U.S. dollar is getting hammered from all sides, the loonie can't catch a break.
Traders are abandoning the Canadian dollar as coronavirus fears confound global markets, clouding the outlook for the commodity-linked currency. Investors are also concerned prolonged pipeline protests might magnify concerns about an economic slowdown, weakening the loonie further.
The Canadian currency was among the worst performers of Group-of-10 peers Thursday, pushing it to levels unseen since June. It has slumped about 2.8% against the greenback so far this year. And it's getting pummeled even as Canadian two-year yields exceed U.S. equivalents by the most since 2017.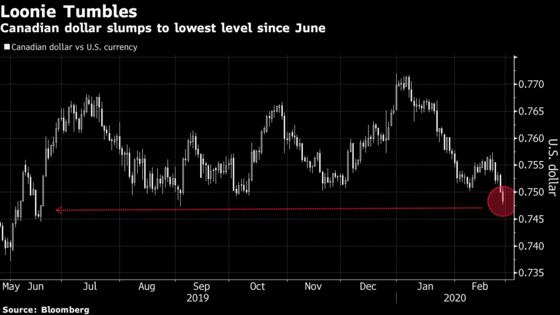 All eyes will be on fourth-quarter growth figures and Bank of Canada's next policy meeting. The nation's economy stalled in the final three months of 2019 to its slowest rate of growth since 2016, Statistics Canada is expected to report on Friday. Traders are pricing in a 41% chance of an interest-rate cut at the central bank's meeting next week and a 60% chance at the next one.
The Canadian dollar's tepid performance this year is in contrast to 2019 when it topped all its Group-of-10 peers. Back then, the Bank of Canada was reluctant to cut interest rates as economic growth chugged along, making it an outlier in the global easing trend. Fast-forward to 2020 and the worsening virus outbreak -- that has killed more than 2,000 people and infected over 80,000 -- has dampened the outlook for global growth and pushed oil and other commodities prices lower as uncertainty spooks investors.
For one strategist, the currency's weakness could keep the Bank of Canada's interest rate cut decision at bay. Lower global rates that's pulling down Canadian yields and a weaker exchange rate are doing some of the "grunt work" for the central bank in terms of providing support for the economy, Bank of Nova Scotia's Shaun Osborne wrote in a note to clients Thursday.
"Lower rates along the curve plus a weaker exchange rate are already providing some degree - a fair bit, in fact - of monetary stimulus," Osborne added in an email.