Bond Bulls in Retreat as Powell Shows No Urgency, Stocks Climb
(Bloomberg) -- Treasury yields have rebounded from multiyear lows after Federal Reserve Chairman Jerome Powell opened the door to possible interest-rate cuts while stopping short of signaling any kind of imminent move.
Powell signaled a willingness to lower borrowing costs if necessary amid trade friction, and stocks surged based on that as risk appetite recovered. As the dust settled, traders had modestly trimmed bets on policy easing over the next year. That shift started earlier Tuesday after Chicago Fed President Charles Evans stopped short of endorsing the idea that the central bank should cut rates.
Derivatives imply that the effective fed funds rate of 2.38% will fall to around 1.74% by year-end, close to the extreme as far as the depth of cuts priced in for 2019. The takeaway for traders is that Fed rhetoric may be starting to affirm market expectations for policy easing, but those bets still fly in the face of stable U.S. growth and the chance that trade tension may ease. Also worth noting: Technical indicators at Monday's close showed bonds were the most overbought since 1998.
"The Fed is open to adjusting policy but there isn't a sense of urgency about cuts as they are just monitoring overall market conditions and economic fundamentals,'' said Subadra Rajappa, head of U.S. rates strategy at Societe Generale SA.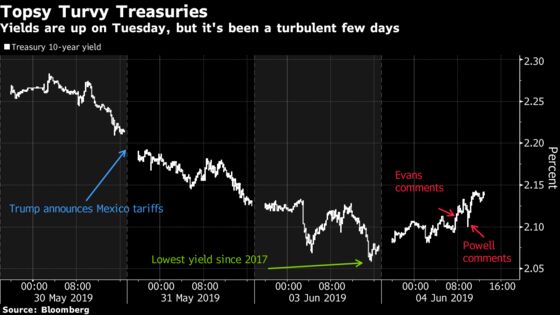 The benchmark Treasury 10-year yield, which sank to about 2.06% on Monday, the lowest since September 2017, jumped six basis points on Tuesday. It was down one basis point at 2.12% in Asia on Wednesday. Asian stocks tracked gains in U.S. equities, with the MSCI Asia Pacific Index climbing 1.2%.
Some investors are betting that the markets may have gone overboard in pricing rate cuts from the Fed by year-end. Soon after the five-day rally in Treasuries stalled Tuesday, one trader paid $4 million in premiums to buy options that would pay off if eurodollar futures decline from current levels. That represented a bet that interest rates won't fall as far as the two quarter points that the market has priced in.
Officials are "closely monitoring the implications of these developments for the U.S. economic outlook and, as always, we will act as appropriate to sustain the expansion, with a strong labor market and inflation near our symmetric 2% objective," Powell said in remarks at a conference at the Chicago Fed. He also said that using policy to boost inflation may risk market excess.
Evans said on CNBC earlier Tuesday that the real side of the U.S. economy was solid, even though risks had increased. He added that the Fed can look through price increases from tariffs.
"The door is now open to a rate cut discussion at the June meeting in two weeks,'' Christopher Low, chief economist at FTN Financial, wrote in a note Tuesday. But "based on recent participants' comments, including Evans' this morning, there will not be much support for a cut.''
Fed policy makers next meet June 18-19 in Washington. Emboldening traders to stand pat on wagers for rate cuts, Federal Open Market Committee voter St. Louis Fed President James Bullard on Monday effectively endorsed the market's take. He said a rate cut may be needed "soon" amid the trade war.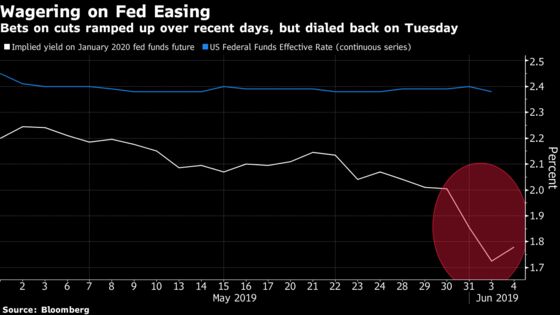 One of the bond market's key recession signals is still flashing. Ten-year yields were about 23 basis points below three-month rates, close to the most inverted level since 2007. The San Francisco Fed calls this part of the curve the most useful for forecasting downturns.
Also on Tuesday, Fed Vice Chair Richard Clarida told CNBC that the central bank can't be "handcuffed" to financial-market moves and suggested it was too early to take a strong signal of concern from the inverted curve, though he would take it seriously if the situation persisted.