Traders Cut Longs in Treasury Futures After Blowout Payrolls
(Bloomberg) -- Traders dumped long positions in two-year Treasury futures amid a sell-off in bonds following Friday's better-than-expected U.S. payroll data.
Two-year note yields jumped 12 basis points on Friday, the most in four years, as open interest on two-year futures slid by more than 135,000 contracts, preliminary exchange data show. That was the biggest decline since the previous contract rolled over in November.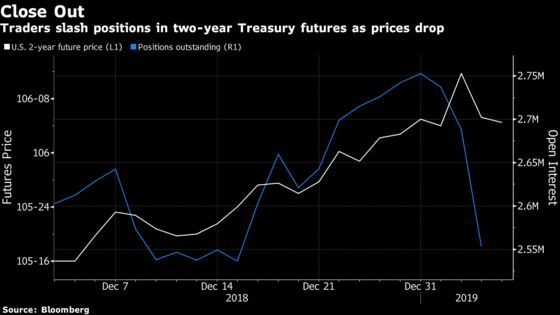 The drop in positions is equivalent to $5.5 million of dollar value per basis-point move, a measure of the interest-rate risk being taken, and points to a flush out of long positions built up since the middle of December. Two-year yields dropped more than 35 basis points from Friday Dec. 14 to Thursday's close as markets priced out prospects for further interest rate hikes and shifted to possible cuts.