Treasury Traders Bet on Renewed Selloff With Inflation Data Due
(Bloomberg) -- Options are signaling rising expectations of another bond selloff ahead of U.S. inflation data, as investors position for the Federal Reserve's response to price pressures. 
Traders are targeting rates on five to 10-year Treasuries to lead a charge higher, rather than the longer-dated notes they bet on in February. One-month risk reversals -- a gauge of demand for bearish put options over bullish calls -- are at their highest since May for benchmark 10-year Treasury futures and their five-year equivalents. Similar premiums for short- and longer-dated contracts are lagging.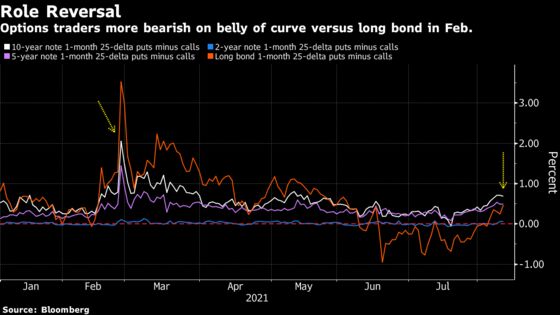 It's a glimpse into market positioning before consumer price index data for July due Wednesday. Economists expect headline annual inflation at 5.3%, close to the 13-year high reached in June. The shift in Treasury bets is another sign of how investors are focusing on the Fed's measures to counteract inflation. A growing chorus of hawkish commentary and better-than-expected economic releases spurred rate-hike expectations and halted a rally that sent yields to multi-month lows last week. 
"The summer rally was driven by algos and seasonality, but macro factors are now moving back into the driving seat," said Mohit Kumar, a strategist at Jefferies International. "If you think about how the selloff will happen, it will be driven by tapering and market pricing of eventual Fed hikes. That would impact the five and 10-year part of the curve more than the 30-year."
Federal Reserve Bank of Atlanta President Raphael Bostic said Monday the central bank should move to taper its asset purchases after another strong month or two of employment gains. He added that he anticipates the first rate hike "very late" in 2022, something markets have priced in for 2023 at the earliest.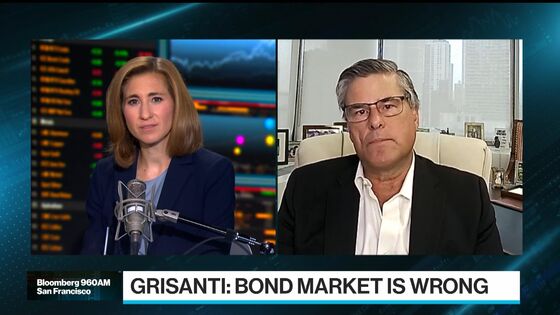 The options trades point to an expectation the five to 10-year sector will lead any selloff, in effect flattening the yield curve. Back in late February, when demand for bearish bond bets spiked, the premium for puts on longer-maturity Treasuries was higher. The curve went on to steepen through the first quarter with 20-year Treasury yields rising by over 85 basis points while five-year rates climbed by less than 60.
To be sure, the premiums for puts across the curve are well below year-to-date highs, suggesting most traders aren't going all in on another Treasuries rout yet. Bond bulls have been vindicated by the largely unexpected global debt rally in recent months.
"It's all in the price, including today's CPI release," HSBC Holdings Plc's Steven Major said in an interview on Bloomberg Television. "We have to look through the noise and the daily inflows of data and views. Ultimately, if and when rates do start going up, they are not going to go very far."
Others contend the summer rally in bonds has been driven by technical factors, with Citigroup Inc. seeing benchmark yields climbing back to 2% into 2022. The rate on U.S. 10-year bonds rose two basis points to 1.37% as of 6:40 a.m. in New York. European debt also slipped, with the yield on 10-year bunds rising two basis points to -0.44%, the highest in two weeks.
"We think that yields rallied too much over the past couple of months and became disconnected from the data," said Mark Dowding, chief investment officer at BlueBay Asset Management, who sees 10-year yields at 2% by year-end. "We look for the outlook to be supported by stimulative monetary and fiscal policies, and with inflation also remaining elevated we think it won't be too long before the FOMC decides that it is time to taper its bond purchases."