Traders Double Bets on ECB Rate Hike as Inflation Takes a Toll
(Bloomberg) -- Traders are ramping up bets the European Central Bank will raise borrowing costs by the end of next year, adding pressure on policy makers as they gather for a rate decision on Thursday. 
Money markets expect the central bank to raise the deposit facility rate by 20 basis points to minus 0.3% by December 2022, spurred by mounting inflation expectations. Wagers for tightening have doubled since Tuesday and defy policy makers' stance that consumer-price surges are temporary. 
That drove euro-area bonds lower, led by an underperformance in Italian debt, which was also weighed down by poor demand at an auction of five- and 10-year notes.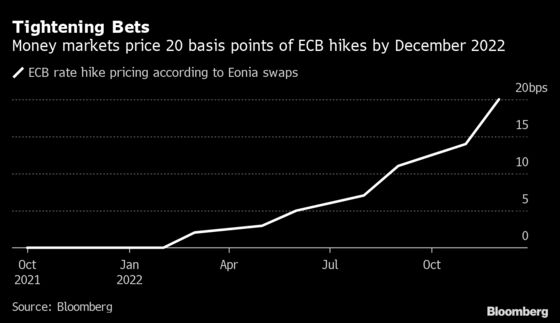 The latest rate bets are excessive, according to Rohan Khanna, a strategist at UBS Group AG. He said traders must be assuming one of two things: either the ECB will abandon its asset-purchase program along with its pandemic-era bond-buying by March, or, that it will revise its sequencing to raise borrowing costs while sticking with quantitative easing.
"Both ideas are very far fetched," Khanna said. 
ECB officials including Chief Economist Philip Lane have said that investor projections for a rate hike next year are out of step with the bank's guidance. President Christine Lagarde may drive home that message in her briefing Thursday afternoon.
The ECB is debating how to transition from emergency stimulus measures, but a decision is expected only in December, when new economic forecasts will become available. Most officials insist the region's spike in inflation is temporary, with medium-term prospects still subdued, even as some emphasize the risk of more permanent price pressures.
The hawkish market pricing is "hard to reconcile with our view of ECB coming on the dovish side today," said Piet Christiansen, chief strategist at Danske Bank. "We have quite a volatile day ahead of us."
Spanish inflation accelerated to 5.5% in October, according to preliminary data on Thursday, far exceeding the 4.5% median estimate in a Bloomberg survey. Euro-area data is expected to show another jump to 3.7% on Friday.
The Bank of Canada was the latest major central bank in the developed world to signal its intention to tighten policy, while the Bank of England is expected to lift borrowing costs by as much as 15 basis points next week. 
Bond-Market Revolt Tests Central Banks as Inflation Fears Surge
While policy tightening bets ramped up, the cost of funding fell to an all-time low, driven by a near-record high level of spare cash in the economy. 
Three-month Euribor -- the rate at which banks can theoretically borrow from one another -- fell to a record minus 0.557% on Thursday. Euribor futures expiring in December expect a subsequent increase to minus 0.535% suggesting money markets don't expect further declines by year-end.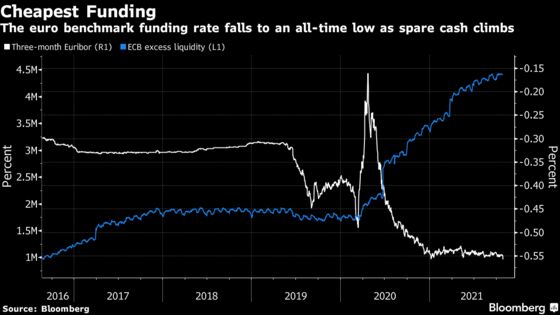 Excess liquidity hit an all-time high of 4.433 trillion euros ($5.1 trillion) almost three weeks ago. That's an increase of almost one trillion euros since January, when the funding rate set its previous record low. 
The pool of spare cash has been boosted by a few rounds of ultra-cheap loan offerings, otherwise known as TLTROs, and pandemic-related bond purchases as the European Central Bank attempts to keep a lid on the region's borrowing costs.