Trader Conviction Rising Draghi Will Open Door for Cheap Loans
(Bloomberg) -- Want the lowdown on European markets? In your inbox before the open, every day. Sign up here.
The rally in peripheral euro-area bonds is set to get another boost should market expectations that the European Central Bank will announce a new round of cheap loans come true.
While traders' conviction is running high on cheap loans, positioning is less certain on the euro. The potential takeaway for the common currency from Thursday's ECB meeting looks trickier, especially if the central bank cuts growth and inflation forecasts for the region as is widely anticipated.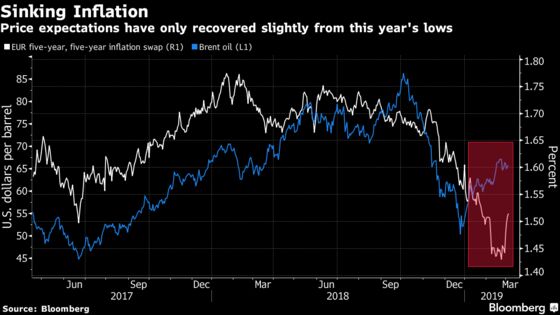 Markets could hardly be positioned more dovishly for the meeting, with the euro and German bond yields hovering just above multi-year lows, while market-derived inflation expectations have also plummeted. Traders in money markets don't expect the ECB to deliver its first interest-rate increase since 2011 until at least April next year.
One key topic for this meeting will likely be the potential renewing of more than 700 billion euros ($793 billion) of cheap loans, known as targeted longer-term refinancing operations, which will begin to expire next year.
Talk about a possible new program have helped support peripheral bond markets -- Italy, Spain and Portugal -- that were the worst-hit by the sovereign debt crisis. It has also fueled a credit rally this year. Credit-default swaps on European financial companies' senior debt have tightened 40 basis points from a Jan. 3 high to 76 basis points, near the lowest since September, based on a Markit iTraxx index.
The terms of any such program will be important, with a fixed rate potentially telegraphing policy, while loans with floating rates would give the ECB greater flexibility.
Below is a selection of analyst comments:
Goldman, UBS (Expect new TLTRO)
Goldman Sachs expects the ECB to announce a new TLTRO on Thursday, which could boost the euro if the central bank also lifts the growth outlook rather than pitch the loan program as a "step to cushion credit conditions," according to strategists Michael Cahill and Matteo Crimella
"Given lower growth and limited inflation pressure, we expect the ECB to send a strong signal on March 7 that it will soon offer a new TLTRO," UBS strategists led by Reinhard Cluse write in a note

Recommend positioning for a tightening of the 10-year Spain-Germany yield spread to 80-90 basis points from around 98 basis points currently

Lowering banks' borrowing costs is key to improving lenders' depressed margins, potentially giving stocks a push. Italian and Spanish banks hold about 60 percent of the current loans, according to Tilmann Galler, global market strategist at JPMorgan Asset Management
The euro-area economy is flagging amid a global growth slowdown and U.S.-China trade tensions, which is hurting sectors such as German car manufacturing. Inflation is also tepid and may not improve in the next decade, if market pricing is anything to go by.
Still, all that is largely priced in, so anything positive ECB President Mario Draghi says could boost the currency and bond yields. Bloomberg Intelligence expects growth forecasts of close to 1.3 percent for 2019, from 1.7 percent outlined in December, while the inflation estimate will also be cut.
"The ECB is a passenger to the data, so better to watch that," Citigroup strategists led by Jamie Searle write in a note

"The ECB may dismiss falling 5y5y inflation as a re-assessment of the inflation risk premium rather than expectations becoming unanchored, but that holds little sway in the market;" recommends receiving 1y1y Eonia vs fed funds
If the ECB does not meaningfully downgrade the outlook, "we'd see potential for a sell-off in the short end as the degree of rate expectations priced into the curve moves higher"

"In 2019, we think a synchronized slowdown is the base case, with Europe potentially being the primary under-performer," says Alessio de Longis, a portfolio manager at Oppenheimerfunds Inc., which is overweignt European bonds via Germany and France, but expects euro-dollar to trade between $1.12-$1.16, compared with current level of around $1.13
Traders' expectations of when the ECB will begin to raise rates have been steadily pushed back since June last year, when the central bank announced that they would stay on hold at least through the summer of 2019.
With the economic outlook deteriorating, Draghi could choose to alter the guidance to say record-low rates will be held either through spring 2020, or beyond. If he does so, that would be perceived as a dovish signal, boosting bonds and weakening the euro, albeit from already stretched valuations.
Morgan Stanley (Limited Room for Dovish Surprise):
"The extent to which markets can truly be surprised by a dovish shift in rhetoric, given the very slow pace of normalization that's priced in, is limited," Morgan Stanley strategists led by Daniele Antonucci write

Bank recommends maintaining 2s10s euro swaps flattener at 80 basis points

There is no urgency for the ECB to change short-rate guidance, and that a tweak can still come in the June meeting, writes Barclays strategist Cagdas Aksu

While a potential language change from 'through summer 2019' to something like 'through 2019' can make a few basis points difference in the December 2019 ECB meeting pricing, it should not significantly affect the path of short rates further out, given that a zero-basis-point depo hike is not priced until end of 2021