Trade War Is Boon for Thai Electronics Maker Amid China Exodus
(Bloomberg) -- While the trade war wreaks havoc on companies with exposure to China, one small contract manufacturer in Thailand is rallying as U.S. electronics companies scramble to avoid tariffs.
Fabrinet, whose major production facilities are all located in Thailand, appears well positioned to benefit from electronics companies looking to move production while demand for optical components -- its core market -- remains robust. The stock is trading at a record high after nearly doubling over the past 12 months. That places the Patumtani, Thailand-based company among the best performers in the S&P Small Cap 600 Index over that period.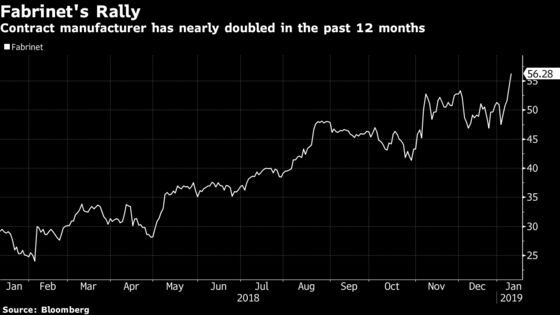 "You're seeing a move away from China and all of Fabrinet's volume production is in Thailand," Needham & Co. analyst Alex Henderson said in an interview. "Demand for new production facilities is coming on stronger than expected."
That should help Fabrinet take market share from competitors such as Sanmina Corp. and Jabil Inc., Henderson said. He expects strong results and will be watching to see the extent that gross margins rise when Fabrinet reports second quarter results, which will probably be in the next month.
"Ultimately you're going to see expanding margins, rapid uptake in floor space on the new facility and good pricing conditions," said Henderson, who has a buy rating on the stock.
Lumentum Holdings Inc., which supplies 3-D sensing components used in newer models of Apple Inc.'s iPhone, is Fabrinet's biggest customer, according to a filing. The company accounted for 16 percent of revenue in fiscal 2018. Other large customers include NeoPhotonics and Acacia Communications. Fabrinet didn't immediately respond to a request for comment.